More tourists; more responsibility
By Messenger Staff
Tuesday, September 6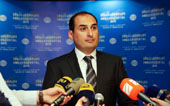 Caption: Minister of Economy Dimitry Kumsishvili Georgia's Minister of Economy Dimitry Kumsishvili has stated that 4,247,729 foreigners visited Georgia in the first eight months of 2016 which was 8.2 percent increase from 2015.
He stressed that among the foreign visitors there were 1,851,917 tourists, a total of 17 percent more than last year.
The number of tourists from Latvia, Czech Republic and Hungary had increased the most.
Georgia's income from foreign tourists in 2015 amounted to USD 1.94 billion, which was 8.3 percent more than the last year.
In the first quarter of 2016, the income from tourism was USD 354.5 million, a further 15.7 percent more than in 2015.
The Minister added that over the course of eight months, the National Tourism Administration held an online campaign in sixteen countries to support tourism.
It will be good for the nation's economy if the number of tourists increases in Georgia from year to year; awareness of the country abroad will grow and the country will receive more income.
It is also notable that more tourists means more responsibility.
A big number of hotels are being built in Georgia. Many of them are of a high standard and, consequently, expensive.
The Government should promote low-cost hotels and hostels as many tourists look for cheap accommodation. They prefer to spend money on travelling and adventures rather than in expensive hotels.
There should also be some sort of mechanism to control prices in tourist areas, as products in such regions are much higher than other parts of the country and in some cases vendors set high prices by themselves.
In addition, relevant infrastructure to cater for tourists is absolutely necessary. The Government must continue investing in this direction. However, it must not damage the sights of the country, as tourists come to Georgia to see something different and escape the familiar.