Economic Freedom Report: Georgia ranks 5th in world
Monday, September 19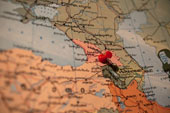 Georgia is now one of the top five most economically free countries in the world, according to a new report by the Fraser Institute.
The annual Economic Freedom of the World report, released earlier this week by the public policy research group, compared the level of economic freedom in 159 countries and territories based on size of government, taxation, rule of law, property rights, regulation, and other factors.
Georgia ranked 11th in the last report, but this year the country ranked 5th.
Georgia's Prime Minister Giorgi Kvirikashvili believed the country's leading position in the report showed the progress made in recent years, and he believed this higher ranking would be beneficial in terms of attracting investments to the country.
"According to this ranking, Georgia ranks fifth after Hong Kong, Singapore, New Zealand and Switzerland. This is a huge success," Kvirikashvili said at yesterday's Governmental meeting.
"I would like to compare the figures: in 2015 we ranked 12th, in 2014 we were 16th, in 2013 we were 21st and in 2012 Georgia ranked 53rd."
"We have attained a high ranking and made important progress that is because of achievements in several fields such as availability of finances, sound legislative framework and protection of property rights and other areas."
The Prime Minister added that this report showed the great progress Georgia has made for its international image.
Hong Kong and Singapore, once again, occupied the top two positions in the report, followed by New Zealand and Switzerland. Georgia and Canada ranked fifth equal, while the United States ranked 16th for the second year in a row.
Armenia is Georgia's only neighbouring country which earned a ranking in the top 20. Armenia placed 18th in this year's report.
(Agenda.ge)