Strong rain and flooding in Batumi
Monday, September 19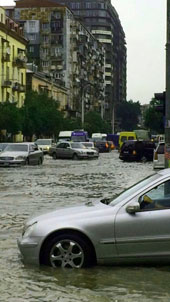 The Georgian Black Sea coast was hit by strong rain on Friday, flooding the streets and inundating ground floors and basements in Batumi, a city of 150,000 people.
Emergency workers were still pumping out the flood waterfrom houses Friday evening.
"All the canals are unlocked for fast draining of the storm water into the sea. Batumi Water Ltd received more than 45 calls to help pump out the water. There were no difficulties for the emergency crews in the city due to the flood," Batumi City Hall said in a statement.
City Hall also promised to assist a family whose home was almost completely destroyed by the flooding.
The rain flooded several streets, including Mayakovski, Pushkini and Lermontovi and Abashidze.
(DF watch)