Georgian tea on show in Ireland
Monday, October 3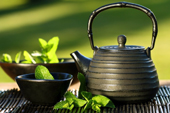 For the first time in history, Georgian tea has been showcased in Dublin, Ireland.
The exhibition was held upon the initiative of the Georgian Embassy in Ireland and was attended by Irish tea importers, representatives of major Irish hotels and supermarket chains, also tea experts and journalists.
Georgian tea producing company Natura Tea Company presented its products, as well as export opportunities.
"The culture of tea consumption has spread in Ireland centuries ago but Georgian tea is less known to them," said Georgia's Charge d'Affaires in Ireland Giorgi Zurabishvili.
"That's why we decided to present Georgian export tea samples to Irish tea importers and other professionals of this sphere."
Zurabishvili stressed this was the first time Georgian tea was showcased in Dublin. He said the Georgian product received highly positive assessment from the Irish side.
(Agenda.ge)