"Despite real attempts, the situation is stable"
By Messenger Staff
Monday, October 3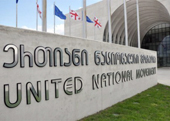 Georgia's Prime Minister says there are real attempts in the country to cause controversy and provocations ahead of the upcoming, October 8 Parliamentary Elections, but he vows that the situation will remain stable.
PM Giorgi Kvirikashvili made his remarks in response to secret recordings released several days ago, where Georgia's ex-President Mikheil Saakashvili and members of the United National Movement (UNM) opposition were allegedly speaking about the overthrow of the current authorities.
"Of course, the United National Movement is trying to achieve something [to create unrest], but we see they have no public support," Kvirikashvili said.
"Despite real attempts, destabilisation is excluded, we won't let this happen," he added.
The PM highlighted the leak of the audio recording should be investigated and the relevant bodies would specify whether the footage was authentic or not.
"It is obvious that it is in the best interests of the current Government for the elections to be held transparently and democratically," Kvirikashvili added.
The PM emphasised that Georgia had had an "unusually long" four-month pre-election period for the upcoming race.
"We invited as many international observers as possible to monitor the pre-election and election periods. All observers admit the pre-election period is the most calm in the history of Georgia," the PM stated.
Georgia's Security Service started investigation into the recording regarding conspiracy to overthrow the Government.
The UNM, established by Saakashvili and the previous ruling force which ran Georgia from 2003-2012, was defeated by the current Georgian Dream (GD) coalition in the 2012 Parliamentary Elections.
UNM lawmakers, who spoke in the recordings, have not yet appeared at the Prosecutor's Office to answer questions over the fact.
They claim the recording was staged by Georgia's State Security Service.
The UNM also highlights that the only force that could cause any destabilization is the current ruling force.
Law enforcers have no right to forcibly bring the UNM MPs to the Office, as they are protected by lawmaker's immunity.
It is hard to blame someone for committing any action if there is no real evidence for this.
Firstly, the relevant bodies must specify and state whether the recoding is authentic or not.
Secondly, it is also very interesting how this recoding was aired and who spread it.
In previous years, there were some cases when such recordings and videos were released online, but it still remains unknown as to who actually released them.