Azerbaijan to make domestic products competitive
Tuesday, October 4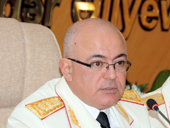 The future increase of customs duties regarding a number of goods imported to Azerbaijan in the first place will lead to increased volumes of domestic production, head of State Customs Committee of Azerbaijan Aydin Aliyev told reporters in Baku Oct. 3.
"All of us give preference to agricultural and food products produced in Azerbaijan," said Aliyev. "Simply from now on, they will be able to compete with foreign products imported to Azerbaijan at dumping prices [when manufacturers export a product to another country at a price either below the price charged in its home market or below its cost of production]."
"If Azerbaijan produces chicken meat, eggs and other foods, then why the country must pay foreign currency for frozen imported products?" said Aliyev.
Customs duties will be increased for two years in Azerbaijan on importing a number of goods starting from November 1, 2016.
This applies to such types of goods, as meat and edible meat by-products (fresh, chilled and frozen poultry meat), eggs, vegetables (cucumbers, tomatoes, onions, garlic), fruits and nuts (walnuts, hazelnuts, grapes, apples, pear, quince, persimmon), fruit and vegetable processing products (juices).
Customs duties will be also increased for alcoholic and non-alcoholic beverages (mineral and soda water), construction materials (bentonite, gypsum, cement, clinker), articles of stone, plaster, cement, asbestos (plates, bricks, building blocks) and ceramic products.
(Trend.az)