Ex-President not to interfere in election process
By Messenger Staff
Tuesday, October 4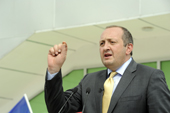 President of Georgia Giorgi Margvelashvili has called on the country's ex-President, now the Governor of Odessa in Ukraine, Mikheil Saakashvili, not to interfere in the country's October 8 Parliamentary election process.
Margvelashvili made the statement in response to Saakashvili's active but distant involvement in the election processes in favour of his United National Movement (UNM) party.
"I am still trying to call on the former president as politely as possible not to interfere with the electoral process ongoing in Georgia," Margvealshvili said.
Margvelashvili stressed that the public is oriented towards making a free choice and any case of tension will be a step against democracy.
"This is the most important democratic experience for us. We are conducting free, modern European elections," Margvelashvili said.
Saakashvili, who was President of Georgia between 2004-2007 and 2008-2013, has no Georgian citizenship and remains wanted by Georgian law enforcement on several charges.
The ex-President automatically lost his Georgian citizenship when he accepted Ukrainian nationality in 2015.
Georgia's Election Code prohibits the involvement of foreign citizens in the country's electoral process.
Local NGOs have several times appealed to Saakashvili to refrain from video addresses at UNM rallies andGeorgia's Central Election Commission also said Saakashvili's behaviour goes against the law.
Saakashvili knows that he is breaking the law but still continues his illegal activities; some might perceive this as a sign of disrespect to Georgia's legal code, while others will claim that he only acts in this way due to his sincere belief in the corruption of Bidzina Ivanishvili's GD party.
However, it is certain that Saakashvili knows that the only chance he has of returning to Georgia is if the UNM party are victorious, which has prompted his excessive remote appearances at UNM events.