9 month data: Georgia exports 32m bottles of wine, earns $74m
Monday, October 10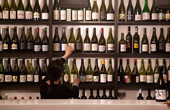 People all over the world are enjoying the sweet taste of Georgia-made alcoholic beverages thanks to increased exports to all parts of the globe.
So far this year Georgia generated $126 million by selling wine, brandy, Chacha and other alcoholic beverages abroad.
Latest figures showed Georgian wine was becoming a sought after drink.
More than 32 million bottles of Georgian wine were exported to 50 countries in the first nine months of 2016, bringing $74.6 million back into the economy, said the National Wine Agency of Georgia.
Between January-September 2016, Georgia exported 35 percent more wine year-on-year (y/y), and generated 12 percent more revenue by selling 32,421,418 bottles of wine abroad.
The top five countries that imported Georgian wine in January-September 2016 were:
1. Russia – 17,056,936 bottles
2. China –3,852,245 bottles
3. Ukraine – 3,457,028 bottles
4. Kazakhstan – 2,535,163 bottles
5. Poland – 1,633,514 bottles
The National Wine Agency said wine exports increased to the European Union (EU), China and Georgia's more traditional export markets.
Year-on-year exports of Georgian wine increased to:
• China – 154 percent (3,852,245 bottles)
• Ukraine – 61 percent (3,457,028 bottles)
• United Kingdom – 60 percent (67,522 bottles)
• Belarus – 51 percent (789,876 bottles)
• Poland – 47 percent (1,633,514 bottles)
• Estonia – 43 percent (485,688 bottles)
• Kirgizstan – 39 percent (163,966 bottles)
• Russia – 36 percent (17,056,936 bottles)
• Germany – 18 percent (223,862 bottles)
• Japan – 20 percent (134,808 bottles)
• United States – 5 percent (191,086 bottles)
• Latvia – 1 percent (841,098 bottles)
Meanwhile, the export of Georgia-made brandy also increased to over six million bottles. Figures showed a 34 percent y/y between January and September 2016.
In this time Georgia exported 6,016,653 bottles of brandy to 16 countries, worth $13.6 million (12 percent more y/y).
(agenda.ge)