Second round of elections to be held
By Messenger Staff
Monday, October 10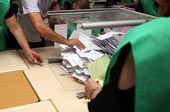 The head of Georgia's Central Election Commission (CEC), Tamar Zhvania, has stated that a second round of Parliamentary elections will be held in "many majoritarian districts" as the candidates running there failed to gain more than 50 % of voters.
The Parliament of Georgia is composed of 150 lawmakers, out of which 77 MPs are elected through a proportional, party list system, while the remaining 73 through a majoritarian option.
It was one of the major demands of Georgia's civil sector and the opposition as well that the majoritarian elections system be replaced.
A rejection of the system was one of the promises of the Georgian Dream (GD) coalition, which defeated the nine-year rule of the United National Movement Government in 2012, but later the victorious team changed its mind and postponed the process of refusing majoritarian election system to 2020.
The opposition and NGOs stated that the majoritarian system favoured the ruling team and provided more seats for them, which was why Georgian Dream decided to ignore the promise for time being.
The holding of a second round of the parliamentary elections will cost more money for the state and at the same time will create risk of possible unrest, as pre-election and election period in developing countries are inherently unstable.
Despite the fact that a range of preventive activities were carried out by the CEC and the Government, there were several negative incidents reported on election day, which were very awkward for the state and the current Government, claiming that the elections would be the best in the history of independent Georgia.
The CEC has time until October 27 to summarise the elections, while it will have to sum up the the outcomes of the second rounds until November 27.
The period is likely to be tense, and the relevant bodies will have to work hard to avoid any complications or controversy, as the elections were described as a "test for Georgia" by many foreign organisations and leaders.
The CEC should also take more steps for better qualification of election commissions members to avoid questions and appeals about administrative and other violations in the future.