IMF: Georgia's economy will grow 3.4% in 2016
Tuesday, October 11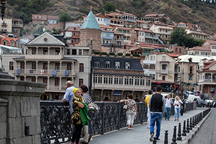 Georgia's economy will grow 3.4 percent in 2016 and 5.2 percent in 2017, says the International Monetary Fund (IMF).
The IMF published its October World Economic Outlook yesterday, which showed Georgia's inflation rate will reach 2.6 percent this year and 3.6 percent next year, while the country's Gross Domestic Product (GDP) will be 12 percent in 2017.
To compare, IMF projected Russia's economy to slow 0.8 percent this year, while Azerbaijani's economy will reduce 2.4 percent. On the other hand Armenia will enjoy 3.2 percent economic growth and Turkey will hit 3.3 economic growth in 2016.
Globally, IMF projected world growth to slow to 3.1 percent in 2016 before recovering to 3.4 percent in 2017.
"The forecast, revised down by 0.1 percentage point for 2016 and 2017 relative to April, reflects a more subdued outlook for advanced economies following the June UK vote in favour of leaving the European Union [Brexit] and weaker-than-expected growth in the United States. These developments have put further downward pressure on global interest rates, as monetary policy is now expected to remain accommodative for longer," said IMF.
In March this year, Georgia's Prime Minister Giorgi Kvirikashvili said the country would see significant economic growth this year. The goal was to achieve 3.5 percent economic growth in 2016 and hit six percent in 2017, he said.
(Agenda.ge)