No multi-party parliament
By Messenger Staff
Tuesday, October 11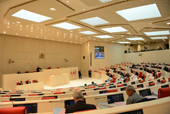 On October 8 Georgians voted for their new parliament. The final preliminary results released by the country's Central Election Commission (CEC) say there will be three parties in the legislative body.
The current ruling Georgian Dream – Democratic Georgia (GDDG), the opposition United National Movement (UNM) and Alliance of Patriots managed to overcome the mandatory 5% threshold.
Georgia has a mixed electoral system, in which 77 of seats out of the 150-seat legislative body are distributed based on the results of proportional voting, while the remaining 73 through the majoritarian race.
The CEC says in most of majoritarian constituencies, candidates could not gain more than 50% of the votes, which is why a second round of elections will take place among two leading candidates in the constituencies.
Based on the final, preliminary outcomes, the GDDG has 48.6 % of the proportional votes, UNM 27.14%, and the Alliance of Patriots 5%.
The GDDG won most of the majoritarian constituencies, where candidates managed to gain more than 50% of the votes, allowing the party to take the leading position in the remaining 50 constituencies where second rounds are scheduled.
This means that the GDDG might appear in Parliament with a constitutional majority, which is equal to 100 seats in the legislative body.
If the preliminary results remains unchanged and the Alliance of Patriots appears in the legislative body, the GDDG will gain 44 seats via the party list, the UNM 27 and the Alliance of Patriots 6.
The GDDG majoritarian candidates won a victory in the first round in 22 majoritarian constituencies. If GDDG will win the second rounds in a majority of constituencies, it will have a chance to be presented with a constitutional majority that will enable the party make some of the most significant decisions without the support of other parties in Parliament.
There will be no Republican or Free Democrat representatives in the future Parliament with their pro-Western, qualified staff, as the parties could not overcome the threshold.
Instead, there might be the Alliance of Patriots, with very obscure pre-election promises and less progressive statements in many cases, anti-European and pro-Russian sentiments among them.
The party vows to be a group of patriots, based on religious values, but in many cases their statements are aggressive, focused on street rallies and demonstrations.
It is regrettable that Georgia will not have a Parliament made up of several parties with progressive values.
Achieving the multi-party legislative body would be possible if the current ruling force kept its promise and rejected majoritarian elections, or if more undecided voters had appeared at the ballot boxes.