Grape harvest in Racha: 257 tonnes of grapes picked so far
Tuesday, October 18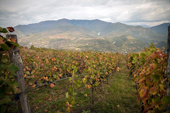 The grape harvest is almost over in Georgia's main winemaking region of Kakheti, but the harvest is continuing in the northwestern Racha-Lechkhumi region, where a small amount of very unique grapes are grown.
So far this season, local farmers in the region have processed 257,075 kg grape including:
Aleksandrouli and Mujuretuli – 255.323 tonnes
Dzelshavi – 1.752 tonnes
In Racha-Lechkhumi, 20 wine companies are involved in grape processing, including one wine enterprise that was paid for by the state.
This year's grape harvest started on October 12 in Racha-Lechkhumi when Georgia's Agriculture Minister Levan Davitashvili together with Governor of Racha-Lechkhumi and Kvemo Svaneti region, Papuna Margvelidze, opened a vintage coordination centre in Ambrolauri municipality.
The Minister noted that the Government was expecting an organised and successful harvest in Racha this year.
To support this year's grape harvest and selling, the Government decided to subsidise the 2016 grape harvest.
The price for different grape varieties in different regions will be as follows:
In the Kakheti region:
1kg of Rkatsiteli and Kakhuri Mtsvane – 0,45 GEL; 1kg of Saperavi – 0,20 GEL.
In Racha-Lechkhumi and Kvemo Svaneti:
1kg Mujuretuli/Aleksandrouli – 2 GEL.
(Agenda.ge)