Parliamentarians miss the sessions
By Messenger Staff
Monday, October 24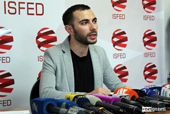 The International Society for Fair Elections and Democracy (ISFED) has released a report that described the activities of 73 majoritarian MPs in 2012-2016 Parliament of Georgia.
The information aired by the local NGO reflected data on how many draft laws were initiated by certain majoritarian MPs, how frequently they attended or missed plenary sessions or whether they used the Parliament tribune to make speeches.
Georgia has a mixed electoral system wherein 77 lawmakers out of the 150-seat legislative body are elected through party list proportional voting, while the remaining 73 via majoritarian elections.
After the October 1 2012 parliamentary elections, the current ruling Georgian Dream won 41 majoritarian constituencies, while the opposition United National Movement worn 32.
At that time, Georgian Dream acted as a coalition of seven parties, while the UNM ran separately.
ISFED chairperson Mikheil Benidze said in the reported period, 331 draft laws had been presented in Parliament by only 36 majoritarian lawmakers out 73.
A greater number of the bills were initiated by David Onoprishvili (a member of the Free Democrats party) with 41, Vakhtang Khmaladze with 33 and by Tamar Kordzaia with 22 (both members of the Republican party.
A total of 10% of majoritarian MPs have never delivered speeches at Parliament's plenary sessions, while 30% delivered speeches only 10 times; only 17% of MPs gave speeches 100 times and more.
The report said in the 2012-2016 period, majoritarian MPs inexcusably missed their sessions 378 times.
Only 11 majoritarian MPs failed to miss any of the plenary sessions.
Leading in the list in terms of inexcusable absences were Marika Verulashvili 19 times (a UNM MP who later quit the minority), Kakha Butskhrikidze 18 times (UNM), Levan Kardava 15 times (UNM) David Bezhuashvili 14 times (UNM), Roland Akhalaia 13 times (UNM), Zviad Kvachantiradze 13 times (GD), Paata Lezhava 12 times (UNM), David Tchavchanidze 12 times (UNM), Gela Samkharauli 11 times (GD), Leri Khabelovi 11 times( GD), and Viktor Japaridze 11 times(GD).
"However, only five lawmakers faced payroll deductions for their inexcusable absences," ISFED said.
The payroll deduction in the five cases ranged between $85-$320. The monthly pay for a Georgian lawmaker amounts to about $1,600.
The MPs who faced the deductions were Marika Verulashvili ($320), Koba Nakopia ($320), Teimuraz Tchkuaseli ($170), Viktor Japaridze ($164) and Roland Akhalaia ($85).
The majoritarian system of elections needs to be replace it provides an unfair distribution of political forces in the legislative body and disrupts the possibility of Georgia having a multi-party parliament.
The activities of the majoritarian MPs in 2012-2016 parliament do not look favourable, but it does not mean that those who appeared in the legislative body via party lists were better in their actions and responsibilities.
This means many of the people who appeared in Parliament did not appreciate or care about the responsibility they had taken before the public.
It is also regrettable that the parties whose lawmakers were most active and productive in previous Parliament could not gain any seats in the legislative body through the October 8 Parliamentary Elections.
Three parties which gained seats in this year race were the ruling Georgian Dream-Democratic Georgia, UNM and the Alliance of Patriots.
Georgia needs lawmakers who will be more responsible. For this, the public must be more demanding of political forces for them to present qualified people in the party lists.
The civil sector and the media must also be very active to raise public awareness over the elections and election programs.
Those parties which have qualified staff should ensure better strategies to gain votes; the failure of parties to connect with the public in this year's election was largely due to poorly run campaigns.