Norwegian visas easy for Georgia
By Messenger Staff
Tuesday, October 25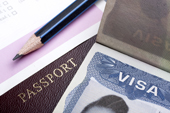 Norway has put Georgia on the list of those countries for which quotas for examination of visa applications are increased.
This means Georgian citizens will receive Norwegian visas more easily.
The immigration directorate of Norway has renewed the categories and Georgia has been put into the 'yellow category' from the 'orange category'. .
Countries are annually divided into categories in Norway, and the list of categories is reviewed every year according to the countries' effective visa policy, security and stable political situation.
In addition, travelling to Switzerland has recently become easier and cheaper for Georgian citizens.
From January 1 2014, Georgian citizens (businessmen, journalists, or people with family members with a living permit in Switzerland) were granted long-term multi-entry visas. The visas were processed within 10 days.
Bulgaria also simplified visa issuing procedures for citizens of Georgia .
The Foreign Ministry of Bulgaria said last year that citizens of Georgia who had previously held a Bulgarian visa could now benefit from short-term double or multiple-entry visas valid for one year.
There are also some other countries, Slovenia among them, who simplified visas for Georgian citizens.
Such news is always welcome, as this means Georgia is progressing and is considered safe for other nations.
The simplifying of visas positively influences people-to-people relations and plays a positive role in attracting investments or deepening other ties.