10 month data: Georgia exports 38m bottles of wine, earns $88m
Tuesday, November 8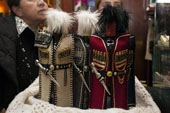 Georgia has exported 38,392,510 bottles of wine to 50 countries in the first 10 months of 2016, bringing $88.3 million back into the economy.
Between January-October 2016 Georgia exported 37 percent more wine year-on-year (y/y), and generated 14 percent more revenue by selling its wine abroad, said Georgia's Ministry of Agriculture.
The top five countries that imported Georgian wine in January-October 2016 were:
• Russia – 20,531,892 bottles
• China –4,307,825 bottles
• Ukraine – 4,212,110 bottles
• Kazakhstan – 3,019,147 bottles
• Poland – 1,819,542 bottles
Georgia's Ministry of Agriculture said wine exports increased to the European Union (EU), China, and Georgia's more traditional export markets.
Year-on-year exports of Georgian wine increased to:
• China – 138 percent (4,307,825 bottles)
• Ukraine – 64 percent (4,212,110 bottles)
• Belarus – 57 percent (931,602 bottles)
• United Kingdom – 47 percent (74,188 bottles)
• Poland – 44 percent (1,819,542 bottles)
• Russia – 40 percent (20,531,892 bottles)
• Estonia – 33 percent (516,048 bottles)
• Kirgizstan – 17 percent (202,666 bottles)
• Japan – 12 percent (141,774 bottles)
• United States – 12 percent (234,616 bottles)
• Germany – 11 percent (234,422 bottles)
• Canada – 7 percent (157,860 bottles)
• Latvia – 6 percent (978,762 bottles)
Meanwhile, exports of Georgian-made brandy also increased to over seven million bottles. Figures showed Georgia exported 7,129,158 bottles of brandy to 16 countries. This was a 31 percent increase y/y between January and October 2016.
So far this year Georgia generated $16.3 million by selling brandy abroad.
In total Georgia enjoyed $148.3 million by exporting wine, brandy, Chacha and all alcoholic beverages.
(Agenda.ge)