SOCAR attracts 3 European banks for building carbamide plant
Tuesday, November 8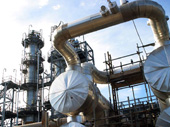 Azerbaijan's state oil company SOCAR intends to attract Germany's Deutsche Bank, France's Société Generale and Italy's UniCredit to finance the construction of a carbamide plant in the country's Sumgait city, the plant's Director Khayal Jafarov told reporters.
Speaking about the financing of the project, the cost of which, according to him, is 700-750 million euros, Jafarov recalled that at the initial stage 205 million manats were allocated from the Azerbaijani state budget.
"Afterwards, a loan worth 201 million euros was attracted," he said adding that currently, negotiations are being conducted on the allocation of additional 300 million euros that will be completed by the end of 2016.
The Export–Import Bank of Korea (Eximbank) will be the main creditor bank, noted the director, therefore, in total, 500 million euros [including the same 201 million euros] will be attracted, 51 percent of which will be provided by the Korea's Eximbank, and additional 249 million euros as the syndicated loan allocated by Germany's Deutsche Bank, France's Société Generale and Italy's UniCredit.
The loan from the three commercial banks will be issued under the guarantee of the Korean Eximbank, he added.
"We, in turn, will provide state guarantees for the Korean side," said Jafarov. "A part of the loan will be used for repayment of the bridging loan, which is beneficial for the Korean bank too, as the short-term loan will turn into the long-term loan."
He added that the construction of the carbamide plant will be completed until late 2017.
"In general, the project is completed by 86 percent," said Jafarov. "Production capacity of the plant will allow fully meeting domestic demand and exporting products through the Black Sea ports."
"The Turkish market is considered as the main market for sales," he added.
(Trend.az)