No reshuffle for law enforcement ministers
By Messenger Staff
Tuesday, November 8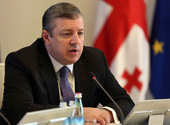 Georgia's Prime Minister Giorgi Kvirikashvili stated that no changes were planned in the Cabinet of Ministers for the country's security ministers.
Initially, it was stated that the ministers pertaining to the economy and national finances will not be changed in the future Cabinet, but it appears that now they will be reshuffled.
That ministers are quite frequently changed has become a general tendency for Georgia, and it is not good for the country's image; representatives of the international community have commented on this.
Ministers must be very carefully chosen, and they should have a chance to serve longer than 1-2 years, as generally ministers in Georgia are changed after just several months.
With regards to the current law enforcement and defenceministers, Minister of Internal Affairs Giorgi Mgebrishvili and Minister of Defence Levan Izoria, neither have served in the positions for long.
Izoiria was appointed several months ago, and it is too early to evaluate his actions as a minister.
Mgebrishvili has served in his role longer than Izoria, however, and it is easier to judge his fitness as a minister.
One thing that is very obvious and that needs to be addressed is less activeness and strictness amongst the patrol police, when the population of Georgia – most of which shows a disdain for obeying rules – needs to be under a strong hand.
The patrol police are not as strict to traffic violations as they used to be, and it is clear that there are fewer qualified and professional police officers now than in years prior. This is something that the current Minister must urgently address, but so far he shows no sign of doing so.