The Business Award 2016
Monday, November 21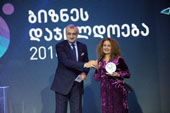 TBC Bank revealed the most successful businesses of the year. The Business Award 2016 that is the most large-scale business award in Georgia was held in Karvasla, History Museum of Tbilisi on November 17, 2016.
There were more then 500 companies involved in the competition. An Independent jury which was completed with experienced experts, revealed the winners in the following categories: Touristic business of the year, Agro business of the year, Georgian product of the year, Innovative business of the year, Small (growing) business of the year, Business of the year and "People's Choice" of the year, that was revealed electronically within public voting that had started on November 1, 2016 and lasted until November 17.
This is the bank's joint project with telecommunications company "Geocell" and aims to promote and support to development of small and medium businesses in Georgia. Also the business award aims to motivate successful businesses for more achievement and became inspiration for others to use the variety of opportunities that is in our country for development their own businesses.
"If you look at this strategically, the project is very important not only for TBC Bank, for Georgia as well. If we want to have a strong economical condition in our country, high business activity is needed. That is exactly what we are doing. We are helping people to start their own small or medium business instead of working on salaries. "- says Nikoloz Qurdiani, Deputy General Director of the bank.
As he noted in the conversation with magazine Messenger, bank gives more then thousand loans and serves tens of thousand businesses per month. So talking about clients, people who are making their own business with them is the most positive message from the banks side.
"We are helping people with our corporate, social responsibility to do their job better. With this way we are gaining more friends in this field" - declares Nikolos Qurdiani.
According him, the event will be annual and during awarding year there will be huge PR campaign in order to more company to be involved.
Anano Arabuli, founder of the winner company ZETA in the category of Business of the year says, that this triumph is very important for them .
"This is big surprise and gift from TBC Bank, but it is the biggest responsibility and motivation to develop and improve our business. Also to employ as many people as possible and become helpful for our country. "- says Anano Arabuli.
The prize of the best touristic business of the year was very important for restaurant Barbarestan as well.
"It will be one year in December our restaurant exists. Such important success in a very little period is very important for us and additional motivation for future development. We are very thankful of TBC Bank."- says Tornike Qurasbediani, the representative of the company.
There was huge audience flow toward the event in Social media. More then million people got information about the business award and involved companies and nearly ninty thousand users have shared the post with hashtag #sharethesuccess.