CiDA Strengthens International Partnership in Migration
Monday, July 10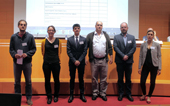 CiDA's Project Manager of "Partnership for Migrants' Rights" (GPMR), Tornike Abashidze, attended a general council in Brussels of the Platform for International Cooperation on Undocumented Migrants (PICUM).
Current topics in the migration field were discussed in the general meeting. The participants also voted on and unanimously supported CiDA's membership in the platform.
PICUM is a non-governmental organization whose mission is to protect the rights of undocumented migrants across Europe. It unites 156 organizations of 31 European countries, which have an opportunity to deepen international partnership and participate in the development of the protection mechanism of unconditional migrants across Europe.
Through membership of PICUM, CiDA becomes part of the largest network in Europe related to undocumented migration and will be engaged in the monitoring of the migration policy in the European Union, as well as effective support of the process of Georgian undocumented migrants in Europe.
CiDA has recently begun a project on migration that offers free legal consultations to migrants. The project is implemented with the support of the Open Society Foundations and it aims to unite the efforts of the Regional Civil Society Network, government, business, and media for the purpose of effective protection and strengthening of the rights of current, potential, and returned migrants through awareness raising and advocacy.