First Georgian olive oil to be exported to the EU
By Mariam Chanishvili
Tuesday, August 8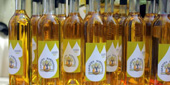 The Georgian olive oil will soon be exported to the European Union (EU).
Giorgi Svanidze, Head of the company "GEOLIVE" said at Business Course that the main target of the export market will be the Netherlands where the Georgian olive oil is already sold in the supermarkets. In addition, the exportation of the product is planned to Kazakhstan and Russia.
The "GEOLIVE" supplies Georgian stores with two varieties of olive oil – black and white, in one-liter and half-liter bottles. The company now owns the olive plantation which is built on 250 hectares of land.
The Minister of Agriculture, Levan Davitashvili got acquainted with the manufacturing process after visiting the olive gardens recently.
According to Svanidze, Georgian Olive oil is cheaper than imported; their products are able to compete with foreign counterparts.
The factory employs 100 locals in Kakheti region. The olive gardens are located in Sighnaghi region, village Sakobo. The factory is equipped with modern technology.
The factory was built in the frames of the Agricultural Project Management Agency of the Ministry of Agriculture of Georgia.
The company "GEOLIVE" was founded in 2009. Company's mission is to promote oil culture in Georgia and its production scale breeding.