Georgian Sparkling Wine gains more prominence
By Mariam Chanishvili
Monday, August 21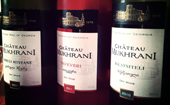 Georgia has an 8,000 year old history of continuous wine making tradition, which is evidenced by numerous archaeological discoveries. Due to the many millennia of wine-making in Georgian history and its prominent economic role, the traditions of wine-making are considered entwined with and inseparable from the national identity.
The ancient traditional Georgian wine making method using the 'Kvevri,' clay jars, was added to the UNESCO Intangible Cultural Heritage Lists.
Château Mukhrani was founded in 1878 by the Prince of Mukhrani, heir of the royal family of Georgia. Todays, the company named after Château Mukhrani produces Georgian wines and spirits (called Chacha in Georgian), which are distributed through the Marrusia Beverages Group network and other non-group distributors both in Georgia and abroad.
The company has started planting vineyards since 2002, and by 2007 it was able to produce their own wine. Since 2007, Château Mukhrani is making wine from grapes harvested in its own vineyards. To make the wine more exquisite and truly unique, winery receives grapes for processing approximately 15 minutes after harvesting.
Next year, Chateau Mukhraniwill invest 700 000 GEL to expand business. According to the decision of the government, the company was handed over 1004 square meters of non-agricultural land and the building located in Mtskheta region. The company paid 12 048 GEL for the expansion.
Georgian wine is becoming more and more popular worldwide. It is often mentioned in famous blogs, articles, noting that "these wines, seemingly, can do anything–go with any food, any situation."
The famous American edition Esquire published an article in which 10 best Pét-Nat (natural sparkling wines) were listed, worth up to 40 $ this May. In addition to 10 best sparkling wines from France, US, Italy, Spain, Slovenia and South Africa. The Georgian Golden Wine 2015 OKRO'S WINES MTSVANE PET-NAT also got the privilege to be in the list of best 10.
Pétillant-naturel (natural sparkling) is a term for practically any sparkling wine made in the methodeancestrale, meaning the wine is bottled before primary fermentation is finished, without the addition of secondary yeasts or sugars.
Ordinaire Wine Shop & Wine Bardirector Quinn Kimsey-White in Oakland, California, says pet-nat is an opportunity to show off the whimsical side of winemaking. "In its best and purest form, pet-nat is unpredictable, extroverted, and pleasing. It can also reveal a winemaker's more playful side, which at the shop helps us present a more colorful picture of their approach and personality."