New 100-suite hotel to be constructed in Tsikhisdziri
By Mariam Chanishvili
Tuesday, August 22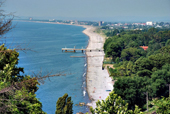 The company owned by TBC Group founder Mamuka Khazaradze and Badri Japaridze will build a 100-suite hotel in Tsikhisdziri.
The Black Sea Resort Company has bought a 90 135 square meter land in Tsikhisdziri and Buknari at state auction for GEL 13.650 million.
The company has been founded by TBC Group President and TBC Bank supervisory board chairman Mamuka Khazaradze (33%), Deputy Chairman of the supervisory board Badri Japaridze (33%) and a private investor - Bob Mayer (34%).
The hotel should include about 100 hotel rooms, a restaurant, a conference hall, a playground and a parking lot. At least 30 people will be employed in the new hotel.
Tsikhisdziri is a village in the Kobuleti Municipality, Georgia, on the Black Sea coast, 8 km south of the town of Kobuleti. Tsikhisdziri is home to an archaeological site, where ruins of a Late Antique fortified town remain and is believed to have similarities with the Roman-built city-fortress of Petra.
Tsikhisdziri has become a pretty popular tourist destination recently offering various facilities to visitors, including a Five Star hotel.
Castello Mare Hotel & Wellness Resort, located in a magnificent place with the tropical plants on the territory of Tsikhisdziri, 17 kilometers away from the Batumi capital, Georgia, is a one-minute walk from the beach.
The hotel consists of two buildings, has a private beach area and an infinity pool. The hotel offers spa facilities, indoor pool tennis court and a fitness center.
Boasting 86 rooms, the hotel is offering trendsetting accommodation along with the various room choices.