Do Fake Facebook Pages target public images of some Georgian politicians?
By Vladimer Napetvaridze
Tuesday, August 29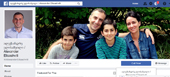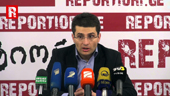 On August 26, one of the mayoral candidates, Aleko Elisasvhili, in an interview with theonline newspaperon.geaccusedthe ruling party of using the social network pages to discriminate his public image.
In Georgia, most popular social network is Facebook. More than 2.4 million Georgians have access to the internet and over 2 million citizens have Facebook accounts. Facebook became the main platform to exchange or spread information in the country.However, it is also used extensively to spread unverified information or 'rumours' about public figures.
It is reported that approximately 7-10 % of all facebook accounts are fake. The official page of Facebook explains that "a fake account is an account where someone is pretending to be something or someone that doesn't exist."
There are five candidates officially named for Autumn 2017 Tbilisi Mayoral elections: Kakha Kaladze - Georgian Dream, Zaal Udumashvili - United National Movement (UNM), Elene Khoshtaria - European Georgia, Tengiz Shergelashvili - Movement for Building, and Aleko Elisashvili - an independent candidate.
As the elections are coming closer, the candidates have become more active in social networks, however, so have become the creators of fake facebook accounts about them.
Elisashvili says the facebook account "supporters of Aleksandre Elisashvili" published a fake sponsored post stating the candidate has accepted the assistance of UNM and thanked them for this initiative. The sponsoredfake news received 1.7 thousand Facebook reactions and 45 shares. On the second day, the page posted the truth about Elisashvili's rejection of the UNM's offer, however the post was not sponsored and received fewer reactions. It should be also mentioned that the page gained public trust since it used to publish verified information before this only case.
Elisashvili also denies the authenticity of the video where young persons with UNM T-shirts help him to collect signatures. The video was also published on a facebook account, which was created in relation to the scheduled mayoral elections. As in previous case, Elisashvili claims the involvement of the Georgian Dream members in preparing and publishing this post.
"Georgian Dream created a fake page on Facebook to discriminate my name,"said Elisashvili.
The members of the majority have responded to the allegations. The chairperson of the faction Georgian Dream,Mamuka Mdinaradze, said the statement was a provocation.
"I would like to ask everyone to quit such attempts of provocation and destabilization," said Mdinaradze.
It should be noted that during the pre-election period, number of fake Facebook pages with the political content has increased. One of the most active pre-election pages is called "who is speaking to us." Itwas created on July 11 and published 25 sponsored posts with some political content. The posts mainly targeted to defame members of the Republican Party, UNM and independent candidate, Aleko Elisashvili.
As election candidates and some interested parties have become active on social networks within the pre-election campaign, it is becoming difficult for public to critically assess the authenticity of all published posts and analyze who or what interests might stand behind them. This creates a perfect ground for those who try to mislead the electorate.