Georgia increases exports on international market
By Keti Donadze
Tuesday, November 21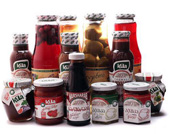 The export of Georgian Products has been growing on the international market. Georgia's foreign trade turnover was marked as USD 8.566 bln in January-October 2017, showing a 12.7% annual increase.
The list of top 10 products exported from Georgia includes:
1. Ores, slag: USD 336.3 million
2. Beverages, spirits, vinegar: USD 272.million
3. Iron, steel: USD 204.5million
4. Fruits, nuts: USD 195.8 million
5. Pharmaceuticals: USD 103.5 million
6. Gems, precious metals: USD 85 million
7. Mineral fuels including oil: USD 72.2 million
8. Fertilizers: USD 65.8 million
9. Knit or crochet clothing, accessories: USD 49.9 million
10. Animals: USD 47.3 million
The export of agricultural products has increased by 43% in 2017.The best-selling products include: wine, alcoholic drinks, mineral water, potatoes, nuts, tomatoes and soft drinks. Georgian products are foreseen to have big potential on the international market.
In recent years, Georgia has made a significant breakthrough in facilitating trade relations with partner countries. On June 27, 2016 the European Free Trade Association (EFTA) signed Free Trade Agreement with the Government of Georgia. The Free Trade Agreement between the Government of Georgia and the Government of People's Republic of China was signed in Beijing on 13 May 2017. The ratification of the agreement from the Georgian side was concluded on November 2. The Agreement will enter into force upon completion of an appropriate procedure from the Chinese side. The preparation of a joint feasibility study for Georgia-India Free Trade Agreement is underway.
According to an economic analyst, Demur Giorkhelidze, bio-products have high potential on the exports market.
"Georgia has very good potential. Export should be a main direction. It is necessary to implement relevant policies in agriculture," he stated on bpn.ge
Georgian spices and herbs are also very tradable in the region.
A restaurant owner in the center of Kiev, Ilarion Sauk, says he uses Georgian spices and herbs for Ukrainian dishes as well as salt, which is brought from Georgia's region Svaneti.
"Georgian spices are very popular in restaurant business. The salt from Svaneti region is not only used for the Georgian kitchen, it gives Ukrainian dishes a piquant flavor," he told eugeorgia.info.