Members of Ultranationalist Georgian March Announce More Radical Steps
By Tea Mariamidze
Friday, November 24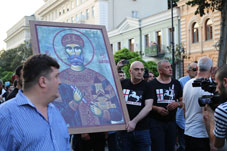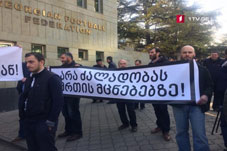 (TBILISI)—Georgia's most radical ultranationalist group known as the Georgian March announced this week that it plans to increase their number of xenophobic and homophobic demonstrations and "go on the offensive against anti-Georgian, anti-nationalist and anti-Orthodox forces in the country", according to one of the movement's leaders, Sandro Bregadze.
Bregadze said the group will be re-organized to include a formal council that will dictate the party's policies and ideology.
"The youth wing of our movement will be strengthened and it will be very radical. We will also start preparing a multi-session congress that will eventually define the strategy and tactics of the Georgian March," said Bregadze.
Bregadze and his fellow ultranationalists claim they are picking up the mantle 19th century Georgian poet and public figure Ilia Chavchavadze, the leader of the country's national liberation movement during the Russian Empire.
Contradicting the ultranationalists' beliefs, however, is the fact that Chavchavadze was a pro-Western political and public figure who wanted to free Georgia from Russia's imperial domination and was inspired by contemporary liberal movements in Europe.
The Georgian March is often affiliated with its forbearer and ideological analog in Moscow, the Russian March, which is often accused of espousing neo-Fascist, anti-Semitic and overtly racist political beliefs.
Earlier in November, Bregadze publicly complained that the Georgian public did little to support the movement, despite, as he claimed, having overwhelming support from average citizens.
"80% of Georgians support us but they want us to do everything...This we won't do," said Bregadze.
The Georgian March held its last rally on November 13 during a home football match between Georgia-Belarus at Kutaisi's Torpedo Stadium in the country's west.
The mob broke into the stadium and directed their attention to the Georgian National Teams' vice-captain Guram Kashia after he wore a rainbow armband in support of the LGBT community during a match in the Netherlands earlier in October.
The Georgian March later joined other far-right groups demanding the dismissal of Kashia from the national team "for supporting the LGBT Community".
On November 6, the members of the Georgian March and the Union of Orthodox Parents and Clerics once again gathered at the GFF and held a protest rally with the slogan "No to LGBT propaganda."
The demonstrators accused the federation of "promoting homosexual propaganda" and opposed the existence of the LGBT community in Georgia.