Signing Ceremony for the project financed by the Government of Japan within the framework of "Grant Assistance for Grassroots Human Security Projects"
Tuesday, November 28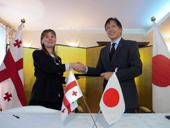 On November 24, the Signing Ceremony for the Project for Provision of Medical Equipment for Mobile Gynecological Cancer Screening Program in Imereti Region within the framework of the "Grant Assistance for Grassroots Human Security Projects" was held at the Official Residence of the Ambassador Extraordinary and Plenipotentiary of Japan to Georgia.
The ceremony was attended by the Ambassador Extraordinary and Plenipotentiary of Japan to Georgia HE Tadaharu Uehara, representatives of Georgian authorities, international and Georgian organizations related to the project.
The grant contract of the above-mentioned project was concluded between the Embassy of Japan in Georgia and Women Wellness Care Alliance HERA. The grant of the Japanese Government for the project amounts to 81,200 US dollars. Under this project medical diagnostic equipment will be provided for a mobile cancer screening program that Women Wellness Care Alliance HERA will run in Imereti region. The National Screening Program is fully funded by the Government of Georgia and all eligible beneficiaries will be served by HERA free of charge. HERA's mobile unit with mammography system and other equipment will visit towns and villages of Imereti region on regular basis and provide cancer screening service to women at the place of their residence. The project will significantly increase access to cancer screening for women in Imereti region and will help diagnose this disease at a very early stage, saving many lives.
The "Grant Assistance for Grassroots Projects" (GGP) provides assistance to relatively small projects implemented by NGOs and aims at improvement of standard of living of Georgian people and promotion of education and culture. It applies to projects in the field of public health, education, social protection, agriculture, environment, poverty reduction and culture. Since 1998, 158 GGP projects have been financed in Georgia by the Government of Japan, totaling 15,919,078 USD.