OSCE Group Adopts Declaration Opposing Russia's Occupation of Georgia
By Gvantsa Gabekhadze
Monday, December 11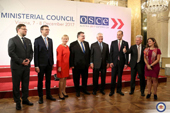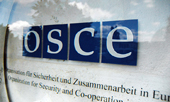 (VIENNA)—The friends of Georgia – a group including the US, UK, Canada, Estonia, Latvia, Lithuania, Poland, Romania, Sweden and Czech Republic and connected to the Organization for Security and Co-operation in Europe (OSCE) Group–has released a statement supporting Georgia's territorial integrity and democratic development.
"We express our full support for the strong determination of Georgia in its aspirations to become part of the European family and integrate with the Euro-Atlantic alliance. We commend the commitment shown by Georgia's authorities," the OSCE group's declaration said.
The declaration called for a withdrawal of all of Russia's military forces from Georgia's occupied regions of Abkhazia and South Ossetia.
The group condemned the gross violations of rights in both regions related to the freedom of movement and property, as well as right to education in one's native language.
"We reiterate that the so called 'borderization' policy by Russia through the placement of artificial obstacles and fortifying the occupation line with barbed and razor wire fences, further aggravates the humanitarian situation on the ground", the group said, adding it supported the right of return for Georgian IDPs from Abkhazia and South Ossetia.