Saakashvili Vows Rallies Despite Home Arrest
By Gvantsa Gabekhadze
Monday, January 29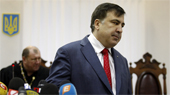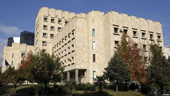 (Kiev) - Georgia's third President Mikheil Saakashvili, who has been sentenced to part-time home arrest last week in Ukraine, vows he will continue rallies to end Petro Poroshenko's government.
Kiev's Court of Appeals turned down the previous verdict of the Pechersk District Court and ordered Saakashvili to stay at home, wearing a special bracelet for remote control, from 10 pm to 7am.
"These a
re not judges…They are sold for money," said Saakashvili describing the Ukrainian Court of Appeal's three judges after the decision was announced.
Georgia's former President claims Poroshenko and the members of his "corrupted government" wanted to remove him from the political arena.
"This will not happen! " Saakashvili said calling on "large-scale" rallies to end the current Ukrainian government.
Saakashvili also says that Ukrainian and Georgian "oligarchs" have made a deal to extradite him from Ukraine to Georgia, where he will face several charges and will be sent to prison immediately.
The Georgian Dream (GD) ruling party representatives say that Saakashvili's issue is a legal case and the decision over the extradition will be made by relevant bodies.
Saakashvili was detained in Kiev on December 5, 2017, but after several hours he was released by his supporters from the police van.
Ukrainian Prosecutor-General Yuriy Lutsenko stated that Saakashvili was accused of cooperating and supporting criminal groups led by former Ukrainian President Viktor Yanukovych, who fled to Russia after his ousting in 2014.
The prosecutor claimed that Saakashvili acted within the "Russian plot" against Ukraine.
Saakashvili hailed the charges as "ridiculous."
After holding rallies in front of Ukraine's legislative body, Saakashvili was detained again on December 8.
The next day prosecutors stated that they would ask the court to send Saakashvili into house arrest.
Judge Larysa Tsokol, from the Kiev Pechersk District Court, released the former President from the court and fully dismissed the prosecution's motionon December 10, 2017.
After his second term as the President of Georgia, which expired in 2013, Saakashvili moved to Ukraine to assist his one-time ally, Ukrainian President Poroshenko during the period of intense confrontations with Russia.
Having served as the Odessa Governor in 2015-2016, Saakashvili accused Poroshenko of lobbying corruption and later, resigned from his post.