Tension inside RFE/RL Georgian Service Leads to Dismissal of Director
By Tea Mariamidze and Levan Khutsishvili
Thursday, February 1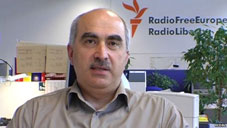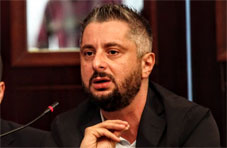 (TBILISI)--Radio Free Europe/Radio Liberty Georgian Service Head, Davit Kakabadze, who had been leading the service since 2005, was fired after the internal disagreement within the team.
Georgian media reports that the tension started between the Director of Georgian Service and the management group after the state-led Georgian Public Broadcaster (GPB) terminated broadcasts of two of RFE/RL's highly-acclaimed television programs as part of a planned restructuring process that critics claim is aimed at silencing independent voices.
The information about Kakabadze's possible dismissal and disagreements between RFE / RL's management and Georgian service were initially reported by BBGWatch, which stated that RFE/RL management wanted to cooperate with Georgia's most critical and opposition-inclined Rustavi 2 TV.
On January 22, BBG watch published an article stating senior management of Radio Free Europe/Radio Liberty (RFE/RL) is putting pressure on its Georgian Service to collaborate with a private Georgian television channel Rustavi 2.
Georgian Service was against the partnership with Rustavi 2. According to the Georgian Service of RFE/RL, their priority has always been to be transparent and objective. They state the senior management's attempts to make Georgian service affiliate with the television channel that the civil sector associates with one particular political party, will lead to loss of trust from Georgian people; many Georgians believe Rustavi 2 is under the influence of former ruling party the United National Movement and former president Mikheil Saakashvili.
RFE/RL Georgian service released a statement regarding the recent developments inside the Georgian service, saying in June 2017, GPB did not continue contract with RFE/RL's two programs Red Zone and InterVIEW and the service started to seek alternative TV station for broadcasting its programs.
"In this regard, the positions of the RFE/RL leadership and management did not coincide which led to disagreement between the Georgian service Director Davit Kakabadze and Editor-in-Chief of Programming Nenad Pejic," the statement reads, adding that in order to solve the disagreement, the management decided to dismiss Kakabadze.
He says he expected it to happen. According to him, popularity is important for the senior management, and it is a reason of their effort to affiliate with Rustavi 2. Georgian Service of RFE/RL decided to work with the objective and independent, though less popular Adjara TV, Kakabadze added.
The decision of firing the Director of Georgian service was protested by the service staff who sent a letter of complaint to RFE/RL President Thomas Kent.
Moreover, some of the most prominent academics, writers, artists, and human rights activists in Georgia have signed an open letter to the Broadcasting Board of Governors (BBG), the Foreign Relations Committee of the U.S. Senate and the White House, as well as a separate online petition, in which they defend RFE/RL Georgian Service.
"We, the grateful audiences of RFE/RL's Georgian service, express extreme concern regarding the leaked information about the Georgian service and are addressing you, so that the implemented policies are adequate to the current challenges Georgia faces. And this, in any case, should exclude a weakening and/or destabilization of the Service," the petition says.
RFE/RL Georgian service explained that they addressed with the cooperation offer to Adjara Public Broadcaster, which accepted the offer and decided to broadcast RFE/RL's two programs.
"RFE/RL Georgian service staff reiterates their respect for their colleagues and believes there has to be media pluralism in Georgia's media space and media outlets must be free of governmental influence. But when it comes to partnership, the Georgian service has unanimous position that we must cooperate with such a TV channel that is far from all political forces," the statement reads.
Rustavi 2 Director General, Nika Gvaramia also commented on the issue, saying Rustavi 2 itself has not offered cooperation to the RFE/RL Georgian Service. He added it was the RFE/RL that asked Rustavi 2 if they could air the two programs.
"We confirmed to broadcast one of their two programs if they financed it themselves but after this, we have not had any communication with the RFE/RL," Gvaramia's Facebook post reads.
Radio Free Europe / Radio Liberty is a private, independent international news organization whose programs — radio, Internet, television, and mobile — reach audiences in 23 countries, including Russia, Ukraine, Iran, Afghanistan, Pakistan, the republics of Central Asia and the Caucasus. It is funded by the U.S. Congress through the BBG.