Rules for Forest Use Changes
By Gvantsa Gabekhadze
Monday, February 5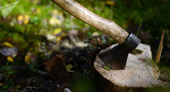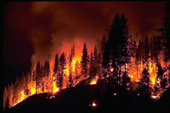 (TBILISI) - The Ministry of Agriculture and Environment have revealed several illegal tree cutting facilities in Georgia – in Borjomi, Khashuri and Akhmeta regions.
Those people, engaged with the illegality have been fined with 2,000 GEL each.
The fact was in the wake of the last summer's intensive fires in Borjomi and other parts of the country and the last week's announcement in the government of Georgia about making law on illegal tree cutting stricter.
"Before the Cabinet of Ministers' was approved [at the end of the last year], I stated in parliament that we were about to launch an uncompromising fight against illegal forest use. Levan Davitashvili, Minister of Agriculture and Environment, has prepared crucial amendments largely regulating and enforcing stricter rules for forest use and introducing organized forest use in our country," Prime Minister, Giorgi Kvirikashvili said.
The new rules mitigate damage to forests, foster the sustainable forest development in the country, insure against accident-related risks caused by failure to comply with safety rules, and significantly decrease cases of illegal forest use.
"One ministry cannot succeed in this endeavour on its own, so local authorities must be engaged, first of all, and coordinated work between all law enforcements must be in place, to put an end to the illegal use of forests in our country," the PM said.
Kvirikashvili said it was important that the use of forest remnants to become simpler and better accessible.
"Tree remnants may be used and removed from forests for the production of solid biofuels, such as briquettes, pellets, and others. This will contribute to improving sanitary conditions, solve the problem of terrains blocked by fallen trees and tree parts, and help with fire prevention," he said.
The PM claimed that many municipalities are switching to biofuels from forest remnants, a process that must cover the whole country.
"This will save more healthy forest resource and foster forest restoration," he stated.
"We are working hard to compensate for the damage suffered by our country in the past few years, sometimes due to natural disasters and sometimes through criminal behaviour, and to prevent future generations from inheriting this legacy," Kvirikashvili added.
Tree cutting for household utilization will no longer involve the issuance of first-class wood, that is, timber, directly from forests.
"It is very important that firewood resource production is ensured by the National Forestry Agency of the Environment Ministry and said resources will be available to budget organizations through direct sales," Kvirikashvili said.
The PM explained that the changes, at this point, do not apply to the mechanism for supplying the population with firewood.
"I would like to urge all of you to support, to the best of your ability, the Ministry of Environment Protection and Agriculture, because without your engagement, there can be no success. It is a very important cause to be accomplished by us," Kvirikashvili said.
The PM said that unfortunately he had to admit that it was often equally impossible without the involvement of different people at different governmental levels and added that ingenuity of the people involved in the illegal activity knew no boundaries.
"What we have seen is beyond imagination, such as timber packed in tank trucks, ambulances pretending to be transporting dying patients to cover up for smuggling timber, and so on. Their wickedness and inventiveness is limitless. They will all be held legally accountable," Kvirikashvili stated.