Draft Law on the Protection of Labor Safety is Still under Discussion
By Levan Khutsishvili
Tuesday, February 6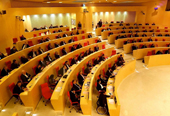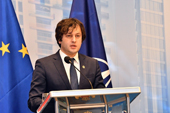 Chairman of Parliament of Georgia - Irakli Kobakhidze spoke about the draft law on the Protection of Labor Safety. According to him, parliament is planning to set a broad and transparent discussion format in order to give all stakeholders equal opportunity to participate in processes.
"The Parliament of Georgia will discuss the draft law on the Protection of Labor Safety on Severe, Harmful and Hazardous Works. In the field of labor, the situation is critical and the state needs to intervene immediately".
Under the Association Agreement with European Union, Georgia committed to establishing high standards on labor safety, doing permanent monitoring of the protection of the labor rights and working on further improvement of standards.
Establishment of high standards of labor safety should be directed towards the protection of employee's rights. Since the employers interests should also be taken into consideration, their involvement in the process of elaboration of relevant legal mechanisms is crucial.
"For creating a healthy economic and social environment, it is necessary to assist harmonious relations between employees and employers. It will increase labor productivity, enhance companies and sustainable economic development of the country" – said Irakli Kobakhidze.
The Georgian Government initiated draft law on the Protection of Labor Safety in June 2017. Lina Ghvinianidze – Human Rights Layer and Social Rights Program Director of the Human Rights Education and Monitoring Center (EMC), stated – "EMC, in the frames of parliamentary working group, was for six months actively involved in the development of the draft law proposed by the government, and expected that in the end of 2017, the country would have new regulations for the Labors safety protection. However, at one of the meetings in December 2017, representatives of the economical team of Government declared that the reform cannot be implemented in 2017".
In June 2017, EMC published its opinion about the Draft Law initiated by Government. The organization sees positive changes although highlights some modifications needed for the draft law. According to the EMC, following aspects of the draft law should be reviewed:
1. Law regulates limited area of the topic
2. Controlling Body has no mechanism of unconditional access to the employment sites
3. Inefficiency of sanction mechanisms
4. Vulnerability of the definition of Breach of Labor Safety Standards
5. Uncertainty of the Rule of Labor Safety Supervision
6. Guarantees for individual independence of the inspectors of the Labor Supervisory Body
Issues of the protection of the Labors safety and rights became especially noteworthy and appeared in the social and political agenda after the death of four workers in Tkibuli mine in May 2017. According to the statistics from Trade Union and Ministry of Internal Affairs, in 2007-2016, 416 workers died and 716 received serious industrial injuries. In 2017, 40 workers died and 57 sustained grave injuries.