Mayor Kaladze Says Orbeliani Square Will Be Among Tbilisi's Best Places
By Tea Mariamidze
Friday, February 9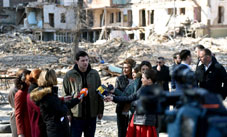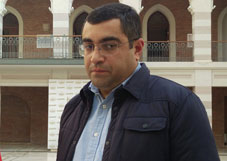 Tbilisi Mayor Kakha Kaladze says after reconstruction, Grigol Orbeliani Square territory will be one of the best places in Tbilisi. The mayor visited the site to supervise the rehabilitation works.
The rehabilitation of Grigol Orbeliani Square belongs to the second stage of the New Tiflis project. It was launched in December 2017 and envisages rehabilitation of Orbeliani Square and its adjacent areas.
The works will cost about 55 million GEL in total and the project is expected to be finished by the end of 2018.
Kaladze walked around the area with his Deputy Irakli Bendeliani and the Director of Tbilisi Development Fund Giorgi Baidarashvili.
The mayor said the construction works are underway in active regime, adding in late 2018 Tbilisi residents and guests will have another good place to visit.
"This will be one of the best places in the capital. 13 out of 18 buildings here are historical monuments. This is the treasure of our city and it needs care and order. Implementation of the project is important because many people are employed here," Kaladze told reporters.
One block of flats has been demolished at Orbeliani Square and according to the mayor, its residents will get new flats or money compensation when the new block is constructed.
Kaladze promised that after the rehabilitation of Orbeliani Square is finished, the Mayor's Office will rehabilitate other historic places as well.
"Rehabilitation of Gudiashvili square will start this year and during the following 4 years we will be rehabilitating various streets and districts in the capital," he added.
According to Giorgi Baidarashvili, director of the Tbilisi Development Fund, construction of underground parking for 150 vehicles is also planned within the project.
The rehabilitation of Orbeliani site covers Atoneli, Virsaladze, Pkhovi, Treasury, Bridge, Purtseladze and Tabukashvili Streets, where the rehabilitation of underground engineering communications' systems is underway.