Signing Ceremony for the 3 projects financed by the Government of Japan within the framework of "Grant Assistance for Grassroots Human Security Projects"
Friday, February 9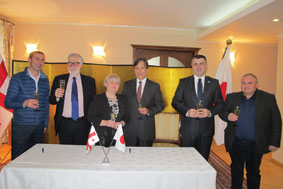 On February 8, 2018 the Signing Ceremony for the following 3 projects within the framework of the "Grant Assistance for Grassroots Human Security Projects" was held at the Official Residence of the Ambassador Extraordinary and Plenipotentiary of Japan to Georgia:
• Project for Rehabilitation of Irrigation System for Six Villages in Akhaltsikhe Municipality;
• Project for Construction of Rehabilitation Center for Persons with Disabilities in Mestia Municipality;
• Project for ERW (Explosive Remnants of War) Clearance in Shida Kartli and Samegrelo-Zemo Svaneti Regions.
The ceremony was attended by the Ambassador Extraordinary and Plenipotentiary of Japan to Georgia HE Mr. Tadaharu Uehara, representatives of Georgian authorities, international and Georgian organizations related to the project.
The grant contracts of the above-mentioned projects were concluded between the Embassy of Japan in Georgia and three organizations: Caucasus Institute for Peace, Democracy and Development (CIPDD), Together for Real Changes (TRC) and HALO Trust. Under the first project, six villages in Akhaltsikhe municipality will be provided with access to affordable, cost-efficient gravity flow irrigation (which will not require electricity or other energy to operate). The project will eventually contribute to livelihood improvement of the target rural communities. Under the second project, the first multifunctional Rehabilitation Center will be constructed in the region, which will serve approximately 150 beneficiaries of all ages per year. Among others, the project is expected to contribute to decreasing maternal and infant mortality, as well as provide rehabilitation support to persons with disability. Under the third project, HALO Trust will complete clearance of areas, contaminated as a result of the Russo-Georgian war (which include villages Dvani and Dzevera in Shida Kartli region and Anaklia in Samegrelo-Zemo Svaneti region). As a result of clearance works, unexploded remnants of war will be removed and the area will become safe for its residents.
The "Grant Assistance for Grassroots Projects" (GGP) provides assistance to relatively small projects and aims at improvement of standard of living of Georgian people and promotion of education and culture. It applies to projects in the field of public health, education, social protection, agriculture, environment, poverty reduction and culture. Since 1998, 158 GGP projects have been financed in Georgia by the Government of Japan, totaling 15,919,078 USD.