Anaklia Deep Sea Port – Largest Project of 21 Century
By Levan Khutsishvili
Friday, February 9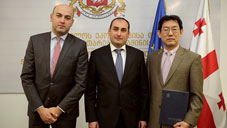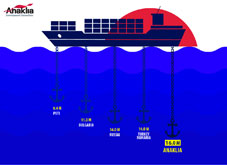 First Vice-premier, Minister of Economy and Sustainable Development of Georgia Dimitri Kumsishvili met with the delegation of one of the largest chinese companies, "China Railway International Group" (CRIG).
According to the official information, CRIG is interested to invest in development of Anaklia Deep Sea Port. In case of reaching an agreement, the company will participate not only in investment, but also in constructing the port. The "China Railway Group Limited" (CREC), which is one of the Fortune 500 Global Companies and one of the world's Top 500 Prominent Brand Companies, and takes 7th place among the Top 500 Chinese Enterprises, established "China Railway International Group" (CRIG).
Another large Chinese company, that has already signed agreement with Anaklia Development Consortium, is Shanghai Zhenhua Heavy Industries Company (ZPMC). ZPMC is the world's largest producer of complex and heavy techniques, including large capacity container and bulk carriers, marine and other heavy equipment. The company is also considered to be the most advanced with modern technologies and marine techniques.
According to the agreement, ZPMC will invest at least $ 50 million in port construction and will additionally attract Chinese financial institutions for future investments. The Company will also provide the port with the latest, modern standard container cranes and other equipment needed to control the container terminal for the Anaklia Deep Sea Port.
Interest from Chinese Companies in the Anaklia Deep Sea Port is logical as it is the shortest road from China to Europe.
Mamuka Khazaradze,founder of the Anaklia Development Consortium said: "By building Anaklia Deep Sea Port, Georgia is trying to renew its historical function, and find its place in the "Silk Road". Anaklia will create a chance for Georgia to become one of the most important transport and logistic nodes in the world". Khazaradze added that plans and visions of development of Anaklia will be publicly discussed in nearest Future.
Development of Anaklia Deep Sea Port project started in 2016. In December 24, 2017 Port's construction works began and Port is planned to be opened by 2021.
Construction of Anaklia port includes 9 phases that will be built on 340 hectares and in total will cost 2.5 billion dollars.So far, Anaklia Development Consortium has undertaken around 50 research projects, including engineering, marine flora and fauna research. Also, Consortium has developed preliminary design of deep-sea port, 50-year general plan and environmental impact assessment document.
"Anaklia Deep Sea Port is the largest project of 21st century, and it will transform Georgia from transit country into the country of logistics and industry," Prime Minister Giorgi Kvirikashvili stated.
Georgia is the only one among Black Sea countries without deep-sea port and due to this, Georgian ports are losing around 65% vessels. Anaklia will be the deepest port in Black Sea area.