Petition against the New Road that will Connect Mountain Regions
By Levan Khutsishvili
Monday, February 19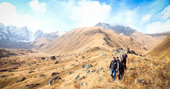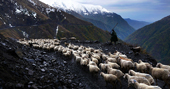 Environmentalists and guides have created petition against the new road construction project, which will connect mountain regions of east Georgia and will go through following settlements: Sno – Juta – Roshka – Shatili – Omalo Khadori Gorge – Batsara – Akhmeta.
The petition states that according to the project, the highway will cross the untouched mountains, forests, passes, protected areas and construction will provoke landslides, mudflows and fires.
In addition, according to petition authors, construction of the mentioned road will seriously harm adventure and ecotourism, horse riding and hiking tourism, mountain tourism, winter ski-touring routes, shelter huts, camps, etc. There is a high risk that famous touristic places like: Chaukhi Mountain, Abudelauri Lakes, several gorges, passes, mountain rivers will lose natural beauty,and it will negatively affect development of the touristic business in mountains.
Petition claims that Adventure and Eco-tourism is the only way for those regions to survive. Due to high rate of migration,a number of villages in north-east Georgia are emptied and authors of petition believe that population will get much more revenue from trail routes than from road for cars.
Another argument,that petition made clear against the project is related to obstacles that climate can create. Due to snow, landslides and mudflows, it will be impossible to keep the road in good condition and provide safety. Additionally, large amounts of money will have to be spent on the road maintenance.
"We are not against the reasonable and sustainable development of existing roads that link these villages to each other; we strongly believe that repairing damaged roads is a solution. What we are protesting is construction of new and useless roads, "said Petition author Archil Kikodze.
"We urge the Government of Georgia to stop this destructive project. We request that, according to the Aarhus Convention, whole project (the reconstruction and construction project of the Sno-Juta-Roshka-Shatili-Omalo-Khadori Gorge - Batsara-Akhmeta road) and a strategic plan should be the subject of public discussion and not only separate parts of the project"- petition claims.
The Croatian company will implement the project and according to the chairmen of the Roads Department- Giorgi Seturidze - approximately 140 million GEL will be spent on road construction and rehabilitation works. The road will be designed for high-speed cars and its construction must be completed by 2020. Within the framework of the project, it is already decided, that construction of a new road in the direction from Pankisi to Tusheti will start in Spring 2018.
"Tusheti has great potential in terms of tourism. We are planning to design a road, meeting with all modern European standards, that will lead from the capital of Georgia to Tusheti, aim is to ensure safe and pleasant trip in Tusheti. It is very important to connect the mountainous regions and we are already working on it. Otherwise it will be impossible to keep this regions for the future generations" – said Giorgi Kvirikashvili, in 2016, in Tusheti.