Economy Minister Meets World Bank Staff to Discuss Blockchain Prospects
By Tea Mariamidze
Tuesday, February 20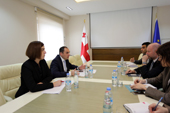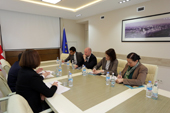 Georgia's First Vice-Premier and the Minister of Economy, Dimitry Kumsishvili, has met the representatives of the World Bank (WB) and discussed the prospects of blockchain technologies development.
Blockchain is a digitized, decentralized, public ledger of all cryptocurrency transactions.
Constantly growing as 'completed' blocks [the most recent transactions] are recorded and added to it in chronological order, it allows market participants to keep track of digital currency transactions without central recordkeeping.
The meeting was held at the headquarters of the Ministry of Economy on February 19. The World Bank delegation was headed by Hans Timmer, the Chief Economist of the World Bank for Europe and Central Asia region.
In parallel with the discussions about blockchain technologies, the sides also spoke about the opportunities of the development of the cryptocurrencies in Georgia.
The World Bank's representatives highlighted that the production of bitcoins and the blockchain technologies in general are very well developed in Georgia. They added the country is among the leaders in this field.
Moreover, as mentioned at the meeting, the World Bank found it necessary to study the experience that public and private sectors of Georgia have accumulated in this regard, particularly in the use of the blockchain technologies.
The WB delegation expressed interest in the current situation in the field and the visions and prospects of the further development of those technologies in Georgia.
As reported by the Ministry of Economy, the representatives of the World Bank will also meet other governmental agencies as well as the private sector, where the blockchain technology is introduced as well.