Georgian Trade Unions Hold March Demanding Labor Safety
By Tea Mariamidze
Monday, February 26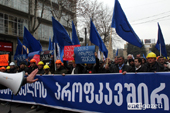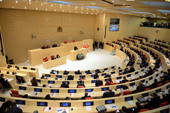 The United Trade Unions of Georgia held a protest rally and a march in Tbilisi, demanding stricter labor safety law.
The protesters claim that since 2007, more than 480 people have died at workplaces and more than 800 have been seriously injured.
"Only in 2017, 41 employees died while doing their work," the demonstrators stressed.
The march started at the Rose Revolution Square and ended at the old parliament building at Rustaveli Avenue.
The workers called on the parliament to the recommendations of the Trade Unions take into account and timely adopt a draft law to ensure a safe and secure working environment.
Before holding the rally, the Trade Unions also started collecting signatures regarding the labor safety law.
The Trade Unions claim that according to the proposed version, it applies only to "work under excessively risk of harsh and harmful conditions". They assure this narrows the scope of the law and that it has to cover all kinds of jobs and employees.
The Trade Unions added they participated in the discussions over the draft law. However, they claim their recommendations have not been reflected in the document. They also stress the government lingers adoption of the bill.
Moreover, the workers say the draft law foresees the unconditional access of the labor safety supervisory body to the workplace only as an exception, adding a Labor Inspector will need a court order to carry out monitoring, for which additional time is required. The Trade Unions believe this will decrease effectiveness of the labor inspector work.
"The project refers only to the labor safety, leaving the labor legislation and enforcement of labor rights without any regulation," the statement of the workers reads.
The trade unions believe that the draft law is still incompatible with the international standards of labor and requires the government to establish and enforce legislation that ensures the respective environment for international standards.
Labor Safety law has been criticized by Georgian Non-Governmental Organizations (NGOs) as well.
In mid-February, the NGOs sent an open letter to the European Commissioners, to share their concerns regarding the ongoing discussions on the Labor Safety draft law.
The NGOs claimed despite certain positive provisions, the draft law initiated by the government, is "weak" in terms of its enforcement and does not provide sufficient mechanisms.
The civil sector added the minimal fines as a sanction determined by the draft law are not in line with the aim of the draft law - making employers rectify the infringements instead of paying fines.
The draft Law on Labor Safety was submitted to Parliament on June 1, 2017.