Opposition Demands State of Emergency Due to Asian Stink Bugs
By Tea Mariamidze
Tuesday, February 27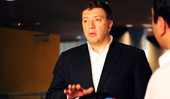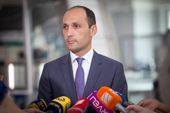 Georgia's parliamentary minority, European Georgia, calls for declaration of the state of emergency in the country for fighting against dangerous agricultural pest — the Asian stink bug, which devastated nearly the whole nut harvest in the western regions of Georgia last year.
One of the leaders of the party, Gigi Ugulava stressed that last year Asian bugs caused great damage to Georgian citizens and the country's economy.
He believes the government is not well-prepared to deal with the pest and has a "wrong approach", adding this brought to even more serious problems to the country.
According to Ugulava, the western regions of Samegrelo and Imereti might face the threat of hunger, as the bugs destroy not only nut harvest, but crops and vegetables as well.
"Invasion of Asian stink bugs reduced the export of nuts by 151 million GEL in 2017. They destroy corn and other agricultural products and there is already an epidemic in western Georgia," the MP claimed.
Ugulava stated that if the government had taken serious measures then, the country would not have faced such a large-scale problem.
"Many people will be needed to fight against bugs and to apply pesticides on large areas. Mass mobilization of the people and volunteers employed in the state structures is needed. Our party is ready to actively engage in this process. In case it's necessary, the army can also be involved," Ugulava suggested.
He also added that Georgia should communicate with the neighboring states as well, in order to avoid spreading of the pest beyond Georgia's borders.
Georgia's Minister of Environment Protection and Agriculture, Levan Davitashvili believes that the issue of invasive pest is not so serious to be main topic of parliamentary discussions.
"Asian stink bug is an agriculture pest and paying so much attention to this issue, to my mind, is not necessary," he stated.
Davitashvili explained that in 2018, the Ministry of Environment Protection and Agriculture is fully prepared to fight the pest, adding all the preparatory works in this regard have been carried out.
"Unfortunately, this topic was politicized, but there is absolutely a technical issue…Believe me, we are ready for fighting the pest," he added.
Georgian government has already adopted a Strategy against Brown Marmorated Bugs 201, which includes four main directions: information campaign, implementation of the monitoring system, stink bug control measures and scientific research works.
The government also intends to arrange pheromones traps in the forests and reserved areas.
Various state agencies and ministries were also given specific tasks:
The Ministry of Regional Development and Infrastructure will coordinate the tasks issued to local self-governments. This means that the ministry will mobilize appropriate equipment and human resources throughout the country.
The Ministry of Labor, Health and Social Affairs of Georgia is responsible for informing the population - information booklets about fighting stink bugs will be prepared.
The Ministry of Education will work with scientists, while the Ministry of Finance will strengthen the phytosanitary regime at the borders.