Margvelashvili Says he will Participate in Elections 'if Necessary'
By Messenger Staff
Tuesday, February 27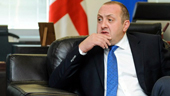 The President of Georgia Giorgi Margvelashvili has stated that he will participate in the upcoming presidential elections "if there is a necessity" for him to do so.
The president did not explain what precisely he meant.
"Despite the fact being the head of the state is the biggest honor, I would prefer to live in peace. I will participate in the elections if I see the necessity of my role," Margvelashvili says.
Margvelashvili stated that the Georgian political landscape is very chaotic and it is even hard for the Georgian Dream ruling party to nominate its pick for the presidential role.
"I am observing the political situation. It is hard for me to have my concrete view on the current political situation as it is very chaotic," Margvelashvili said.
Part of the non-parliamentary opposition and the civil sector have appealed to Margvelashvili to take part in this year's presidential elections.
They believe that Margvelashvili could be the "only, real opponent" for the Georgian Dream nominee.
In case Margvelashvili participates in the upcoming elections, he will most possibly do so as an independent candidate. Consequently, if he is elected to his second presidential term, he will enjoy more rights as a president than he did in the first one since he won't be representing a certain party anymore. Granted with the population's trust to lead the country, Margvelashvili will gain more influence regardless of how the constitution limits the presidential rights.
In countries where status of a leader is only a formal matter, presidents are granted leadership by a parliament, not citizens. In case Margvelashvili wins, the Georgian population will grant him power, this making him a more influential politician.
It is very likely that there will appear a certain type of voters as Margvelashvili's potential supporters- those in between the two most popular political parties-electors who at some point supported the Georgian Dream party and were disappointed, but do not agree with the United National Movement either.
In case he is defeated in the elections, his political image will be shaken due to a 'proof' that he was elected to his first presidential term only because of the Georgian Dream party he was representing and not for his personal achievements or skills as a political leader.
One of the reasons Margvelashvili might be willing to race is to give chance to the Georgian people to "change history" and to not vote for an individual who represents a certain political force.
Margvelashvili, who is mostly criticized by the Georgian Dream party, may participate in the elections not to let the Georgian Dream take control over all the three governments in Georgia- executive, legislative and juridical.