The rise and fall of Mikheil Saakashvili
By Peter Zalmayev & Lincoln Mitchell
Thursday, March 1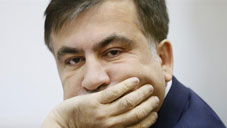 One of the most intriguing people at the recently concluded Munich Security Conference, the annual gathering of international relations nabobs from Europe, North America and elsewhere, was erstwhile Georgian President and Odessan Governor Mikheil Saakashvili. Saakashvili is no longer president or governor of anything, and is also no longer a citizen of Georgia, but remains a fascinating figure, and a bit of a cautionary tale.
Saakashvili, for many years the darling of the west because of his record on fighting low-level corruption in Georgia and hawkish rhetoric towards Russia, usually delivered in near-native English, has had a rough few years since his party resoundingly lost a parliamentary election in Georgia in 2012, and he was then term-limited out of office in 2013. After leaving the presidency, Saakashvili, after a year or so, due to his relationship with Petro Poroshenko, who was elected president of Ukraine in 2014, became an adviser to the Ukrainian government and then governor of Ukraine's Odessa oblast. However, the Saakashvili that took over Odessa was no longer the energetic reformer who changed Georgia so much and proved unable to accomplish much there.
By late 2016, Saakashvili was out his job in Odessa and turning his attention to the man who had revived his political career. Like any politician, scholar or activist who gets in Saakashvili's way, Poroshenko continues to be on the receiving end of a barrage of Saakashvili's verbal attacks accusing him of being corrupt and a pawn of the Kremlin. This is standard Saakashvili fare and no longer gets any traction. Eventually, Poroschenko retaliated by stripping Saakashvili of his Ukrainian citizenship, but a few months later Saakashvili returned to Ukraine without proper documentation and was arrested, released and then earlier this month things got even stranger.
On Monday, February 5, a Ukrainian appeals court turned down Saakashvili's request that it overturn a Ukrainian lower court ruling that denied him refugee status. Saakashvili then left Ukraine for the Netherlands, his wife's native country.
The drama and just plain weirdness around the Saakashvili saga can obscure a significant reality. As recently as two years ago, Saakashvili boasted that he and his supporters would soon be running two countries, Georgia and Ukraine; today, he is widely discredited and, more damagingly for him, almost irrelevant in both those countries.
In Georgia, his political party has devolved into competing factions, none of which get any significant amount of votes or wield any real power. Lately, his support in Ukraine has been hovering near two or three percent. The rallies he has held there in recent months generally draw fewer, and sometimes far fewer, than five thousand people. Saakashvili's constant drumbeat about corruption in Ukraine is not so much wrong as it is sometimes overstated and usually presented in a way that does not resonate with a population weary from years of tumult. Ukrainians are indeed disappointed with their government and the pace of reforms, but that doesn't mean they are ready to embrace the populism, instability and erratic leadership that have always been part of the Saakashvili brand.
In Ukraine, Saakashvili also faces the very grave charge that he conspired to receive funding from one of Former President Viktor Yanukovich's most odious moneymen - one of his close aides was allegedly caught on video accepting several hundred thousand dollars from this moneyman's envoy. That case has not come to trial, and Saakashvili adamantly denies any connection to Yanukovich, but the charges and evidence should not be so easily ignored.
A central irony of the latest iteration of Saakashvili is that despite his consistently harsh anti-Russia rhetoric, almost nobody outside of Russia and Russian operatives are doing more to try to discredit the Ukrainian state in the eyes of the West, sow the seeds of instability there and lead Ukraine down the path of right-wing populist democratic rollback than Saakashvili himself. At the Munich conference, Saakashvili has devoted most of his time to making verbal attacks on the Ukrainian government, referring to them as crooks and thieves and trying to undermine their support from Western financial institutions. It should not be overlooked that, in Ukraine, he attempted to make alliances with fringe far-right and outwardly xenophobic forces such as the "Svoboda" party and the Azov Battalion. At his encampment outside the Parliament, one could see posters and banners with outright anti-Semitic slogans.
In the bigger political picture, Saakashvili may no longer be particularly important. He holds no important office, has a limited, if devoted, following in Georgia and Ukraine, and has lost a lot of Western goodwill in recent years. Nonetheless, a decade removed from his last election victory, and even further removed from the years when he was an aggressive and successful reformer, he provides us with with an example both of how somebody can stray from democratic promise to semi-authoritarian rabble-rousing and how western policymakers should be more willing to confront a political client when that happens. Saakashvili once represented hope and promise for the global democratic project, but largely because of decisions he made that never happened. The 19th-century American poet John Greenleaf Whittier wrote that the saddest words in the English language are "It might have been", when thinking of where Saakashvili is today, these words come to mind, or if you prefer dialect of his adopted American hometown, "shoulda, coulda, woulda".