C.T. Park Claims Tbilisi Gov't Actions Will Hamper Investments
By Tea Mariamidze
Thursday, March 15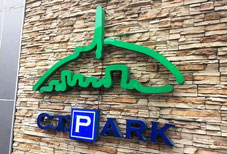 Parking regulatory company C.T. Park owners say Tbilisi Mayor Kakha Kaladze's decision to abolish the contract with the company will negatively influence the Georgian investment climate.
The company owners – David Pila and Natan Shorer - released the statement on March 14, saying the Mayor's decision is "an illegal, premeditated political act and the latest example of how the Georgian government treats foreign investors. "
"The entire state apparatus, including various branches of government, have been used in a well-coordinated, concerted effort to unlawfully drive CT Park out of Georgia," the statement read.
David Pila and Natan Shorer say the authorities have acted in "bad faith" and disregarded continuous communications from the investor as well as the fact that there are two pending court cases of the company.
"The authorities have attempted to create an illusion of legal process where the end result (illegal termination of contract due to the interests of certain groups standing above the law and the judiciary) was predetermined," the statement stressed.
The company owners claim they will consider all options and remedies available under Georgian and international law to fight for their interests.
"C.T. Park owners will also bring this information to the attention of Israeli and international business community. This will no doubt reflect negatively on the Georgian investment climate, which apparently does not concern powerful bureaucrats acting in self-interest," the company stated.
Itsik Moshe, the President of the Israel-Georgia Chamber of Business and the founder and Chair of Israeli House, says C.T. Park has not entered Georgian market through the Israel-Georgia Chamber, adding he does not know the details of the agreement between Tbilisi City Hall and the company.
However, Moshe says he is ready to get involved in the dispute, if necessary.
"I also need to highlight that before this case, Tbilisi City Hall has been supporting Israeli companies all the time," he added.
The contract between City Park and Tbilisi Mayor's Office was signed in 2007 and envisaged the company to manage parking services in Tbilisi until 2022. According to the international auditing company Ernst & Young, the annulment of the agreement will cost the Mayor's office 25 million GEL to pay for the compensation.
However, Deputy Tbilisi Mayor, Irakli Khmaladze said the Mayor's Office will not have to pay any compensation as it has grounded arguments that the company was not properly fulfilling its obligations.
Mayor Kaladze announced about the termination of the contract on March 12, adding the company fails to meet the obligations undertaken by the contract.