Minister: Check in Georgia Project Is Important Stimulus for Business Development
By Tea Mariamidze
Friday, March 16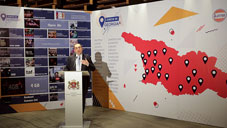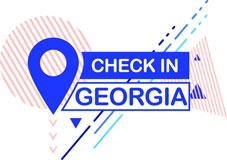 Georgian Vice-Premier and the Minister of Economy and Sustainable Development, Dimitry Kumsishvili says that state-led project Check in Georgia promotes tourism and business.
Kumsishvili made the statement at the presentation of Check in Georgia 2018 on March 15.
"Check-in Georgia is an economic project aimed at development and promotion of tourism and business, which will have a direct impact on the growth of revenues of our fellow citizens and companies in Georgia," the minister stated.
He also noted that this year the project has become more diverse and will cover all the country.
"Every corner of our country will host different types of events, which is very important for the development of regions. It will be a series of concerts and events, the main task of which is to increase awareness about Georgia and turn our country into a cultural center of the region and increase the economy of the country," Kumsishvili said.
The minister explained that the project is aimed to attract more tourists from around the world and to encourage domestic tourism as well.
"Domestic tourism brings us no less income than foreign one and also it creates new jobs for the local population," he added.
According to him, this year the budget of Check in Georgia will be 20 million GEL.
The Ministry of Economy reports that in 2017, Georgia's income from tourism was $2.75 billion, which is 27% more than compared to 2016.
Besides, only in January-February 2018, 885,047 international travelers visited Georgia, which is 17.2% increase compared to the same period of the previous year.
Last month, 440,806international travelers visited the country which is 19.8% increase compared to the same period of the previous year.
Within the framework of Check in Georgia, the events will start in April and will last until the end of the year.
This year, almost all major festivals of the country have united under the Check-in Georgia project, including Batumi International Film Festival, Tbilisi International Theater and Photo Festivals, Regional Theaters Festival, International Advertising Festival Ad Black Sea, Tbilisi Open Air and others.