Georgian Government to Develop Bakuriani and Mitarbi Resorts
By Levan Khutsishvili
Friday, March 16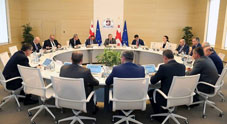 On March 6, 2018, Georgian government adopted the resolution #117 on approval of Bakuriani Land-use Master Plan, which consists the development vision and plan of Bakuriani. On the governments meeting on March 14, plan of development of Big Mitarbi was adopted. In Big Mitarbi, a village nearby the Bakuriani, Government plans to start complex development of the two locations, connecting them with each other.
"This plan and the strategy that we chose, will turn Bakurani and Big Mitarbi into one of the most beautiful, modern and developed mountain ski-resorts in the country, and not only for winter, but for all four seasons. Project aims to create around 5,000 beds living infrastructure in Big Mitarbi, together with food facilities, recreational zones, administrative buildings. This development will improve the living conditions of the people located in the radius of 100 kilometers from Bakuriani and Big MItarbi," said Giorgi Kvirikashvili, Prime Minister of Georgia.
Big Mitarbi is a village on the height of 1480 m above the sea level. In the 80s of the 20th century it was planned to develop the winter ski resort there, as the conditions for skiing are suitable. The plan at that time failed. Mitarbi is famous for its mineral waters, which is produced since the 70s. Georgian Government launched the Bakuriani touristic infrastructure development-rehabilitation project in 2015. In July 2016, government developed land use plan for Bakuriani and its surrounding areas. Accordingly, in 2016, after the 30 years of pause, skiing track was opened in Big Mitarbi. Now it is a larger scale vision and project, as Mitarbi with its nature, climate and mountains for skiing has a potential for development, and linkage with Bakuriani (distance between Bakuriani and Big Mitarbi is around 7 KM) can create a very attractive and convenient resort in south of Georgia.
According to the Bakuriani Land-use Master Plan, 21 territories in Bakuriani will be developed. Besides the redevelopment of existing skiing tracks, creation of new infrastructure for winter resort is planned. New Land-use plan, aims to develop Central Park. On around 753 089 m2 of land (inner space of the "Round Road"), trails for pedestrians and bicycles will be built, plan allows to create a lake, open sport grounds, Tourist Information Centre and other recreational pieces of infrastructures.
According to the plan, Bakuriani will have airdrome, golf ground and sports complexes.
"The large size sports and tourism infrastructure, sports complexes, cinemas and cyclist roads will be developed in Bakuriani and in general it will be a very important attraction point for tourism in Georgia, " stated Giorgi Kvirikashvili.