IMF Positively Assesses Georgia's Economic Indicators
By Tea Mariamidze
Friday, April 6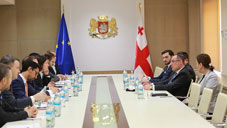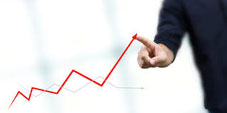 The International Monetary Fund (IMF) Mission members positively evaluated the economic growth rate of Georgia and noted that reforms implemented in the country positively affect the country's economic activity.
The information was released by Georgia's Ministry of Economy and Sustainable Development, after the Vice-Premier and the Minister of Economy, Dimitry Kumsishvili, met the representatives of IMF mission, currently paying an official visit to Georgia.
At the meeting, the IMF Head Mercedes Vera-Martin and Kumsishvili discussed the progress of the program, which has been jointly implemented between Georgia and the IMF since 2017. In addition, macroeconomic indicators of the country and current structural and economic reforms in Georgia were discussed at the meeting.
Georgian minister introduced the IMF mission with positive dynamics in the direction of Georgia's economic growth. According to the Minister, Georgia has completed 5% of real economic growth by 2017 and continued with 5.5% growth in February 2018 which, as of the first two months of 2018, constituted to as high as 4.9% growth on the whole.
According to Kumsishvili, indicators are posed by positive dynamics in a number of directions, including turnover of enterprises, increased exports, number of tourists and money transfers.
The minister also introduced the members of the Mission with the latest assessment of the international rating company FITCH. In particular, the rating of Georgia has changed from Stable to Positive, which is extremely important for investors.
Kumsishvili also mentioned the profit tax reform that helped to increase the volume of direct foreign investments in Georgia. In particular, the growth of reinvestment in 2017 amounted to 129.6% ($401.9 million) as a result of which, the total reinvestment volume reached $712.1 million.
According to the First Vice-Prime Minister, the share of reinvestment equaled to 38.2% of total foreign direct investment and increased by 18.8% compared with the previous year. He added the increase in reinvestment clearly indicates to the growth of investors' trust and positive expectations towards the country's business environment.
As the minister said, the increase in reinvestments has contributed to the profit tax reform that allows the private sector to direct their earnings towards making new investments and enhance business activity instead of taxes, which further increases the attractiveness of the country's investment.
The Ministry of Economy reports that the meeting also focused on reforms, including the pension reform, capital market development, public-private partnership draft law, energy and other important reforms. The ongoing trends and activities in the Georgian economy sectors were also discussed at the meeting.