Controversies in the Ruling Team over the Election of Board of GPB trustees
By Vladimer Napetvaridze
Friday, April 6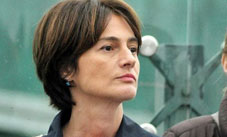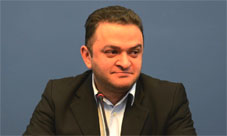 On 4 April Parliament has supported Izabela Osipova and Ninia Kakabadze to become members of the Board of trustees of Georgian Public Broadcaster (GPB). 99 MPs voted for Izabela Osipova, nominated by the Public Defender.55 lawmakers voted for Ninia Kakabadze, nominated by the parliamentary minority, 12 were against.
Election of Ninia Kakabadze as a member of the board caused controversies among the majority members. One group of the ruling party considers this fact as a part of the democratic process, as for the second group of the MPs, electing Kakabadze is unacceptable because she is "an enemy of the Georgian Orthodox Church."
The chairman of the Parliament, Irakli Kobakhidze,in his interview with Interpressnews, stated that "the more unworthy and reputation harmed candidate opposition names, the better for the ruling team."
Another member of the majority Gedevan Popkhadze said that if Georgian Dream, according to its political vision, considers Ninia Kakabadze worthy to be a member of the GPB Board, he will leave the majority. The MP told journalists that Kakabadze's candidacy is unacceptable for him. This statement of Popkhadze caused an assumption about possible disassembling of the majority.
Another member of the Georgian Dream Zaza Papuashvili criticized Ninia Kakabadze's election. He stated that if it is necessary, he would leave the majority: "I am not here to vote for such people, I haven't stated that I am going to leave the majority, but if it is necessary it will not be a problem to make a decision," Papuashvili said.
Politicians responded to assumptions about the possibility that election of Kakabadze could be a beginning of dissolution the majority. The Mayor of Tbilisi, Kakha Kaladze said, that he hopes Gedevan Popkhadze will change his decision and stay in the majority.
Member of the Georgian Dream Eka Beselia said that Popkhadze should not leave the majority, because the deputies of the majority who supported Ninia Kakabadze's election are actually only a minority of the majority: "I think Gedevan will reconsider his position. As we see from the results, the majority of the ruling party didn't vote for Kakabadze, and if I am not mistaken, only 39 deputies voted for her election,"-Beselia stated.
The chairman of the National Movement Roman Gotsiridze does not believe in disassembling the coalition, he thinks that everything is ruled by one person and today's parliamentarians do not have the power to make such decisions independently.
"The previous parliament was a stronger coalition, represented by serious political parties and strong political figures with political ambitions, so the parliamentary majority dissolved, but this parliament has no such power because it is ruled by one person," said Gotsiridze.