IMF Executive Director: Georgia Has Progress in Trade and Investments
By Tea Mariamidze
Friday, April 13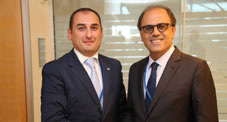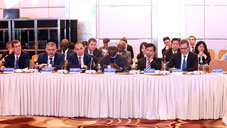 Executive Director of International Monetary Fund (IMF) in the Middle East and Central Asia, Jihad Azour believes Georgia has made progress in terms of trade and investments.
Jihad Azour made the statement while meeting Georgia's First Vice-Premier and the Minister of Economy and Sustainable Development, Dimitry Kumsishvili.
The meeting was held in the Chinese capital Beijing, within the framework of the high-level Conference on the Belt and Road Initiative (BRI), organized by the International Monetary Fund and the People's Bank of China.
"It was an interesting meeting during which we discussed the reform program implemented by Georgia. I have also heard a number of initiatives that are being implemented in terms of increasing cooperation between the countries and the region," Jihad Azour stated.
Georgia's Ministry of Economy reports Georgia's cooperation with the IMF and the course of the program based on the Government's Reform Plan were discussed at the meeting.
"In 2017-2020 we have to invest more than $3.5 billion in the country's infrastructure and these investments should be attracted from international financial institutions," Kumsishvili said.
Before the meeting Kumsishvili participated in conference on the Belt and Road Initiative and delivered his speech at the session of 'Macroeconomic and Financial Frameworks for Successful Implementation of the conference.
The Belt and Road Initiative aims to promote policy dialogues, foster connectivity and cooperation in infrastructure, trade, finance, and people-to-people exchanges.
It aims to connect Asia with Europe and Africa, through the Middle East and reaching Latin American countries. It is expected to raise significant resources from China and various other sources, including the private sector, to support development, mainly infrastructure development, and improve growth prospects.
The BRI has the potential to bring much-needed infrastructure to countries and facilitate trade and financial flows, thus acting as a source of growth and fostering international cooperation.