Gov't Launches New Program to Support Young Entrepreneurs
By Tea Mariamidze
Monday, April 16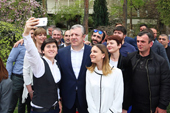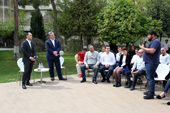 The government of Georgia is launching a new program – Young Entrepreneur – is aimed at supporting and helping Georgians aged 18-40 to develop their rural business of start-ups.
The program envisages providing grants for projects, proposed by the young entrepreneurs to help them realize agricultural products.
The state program fund -10 million GEL will finance start-ups of young entrepreneurs individually as well as cooperatives by 40%, if the project is agricultural. The project cost should be minimum 10,000 Gel and maximum 60,000 GEL in value. The rest 60% will have to be financed by beneficiaries, who can take bank loans with preferable conditions.
In case the proposed project or start-up is non-agricultural, the state will provide only 20% financing and the rest has to be covered by the beneficiary.
Georgian Prime Minister Giorgi Kvirikashvili attended the presentation of the program and provided the audience with detailed information.
He stated that the project is for people with new ideas, especially from the regions, adding it is very important to ensure that the center of economic development is in the regions of the country.
"The engagement of the youth in building our country is extremely important. Georgia needs bold ideas, daring decisions, and your age is the best age for it. We need unconventional ideas, and we welcome the creation of different platforms enabling you to organize and deliver opinions to the authorities, to ensure your involvement in governance, which is extremely important to us," he stated.
Kvirikashvili thanked the Minister of Environment Protection and Agriculture of Georgia, the Government of Denmark and the International Fund for Agricultural Development (IFAD) for assistance.
The program Young Entrepreneur is implemented within the framework of the state-led United Agricultural Project implemented with the support of the IFAD.
The United Agricultural Project is intended for long-term development and competitive agriculture sector, in order to produce high-quality products in line with international standards.