Experts about Possible Influence of Syrian Conflict on Georgia
By Vladimer Napetvaridze
Monday, April 16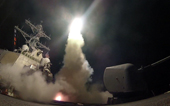 Since 2011 Syrian conflict has been of international significance. The process that began 7 years ago, with the demonstration of a local population, grew into a wide scale of international warfare activities. The Syrian government's key supporters are Russia and Iran, while the US, Turkey and Saudi Arabia back the rebels. The UK, France and other western countries have also provided varying levels of support.
On April 14, armed forces from the UK, the US and France have fired missiles to destroy what they say are chemical weapons factories in Syria. Itís the biggest military attack against Syria's President Bashar al-Assad's government by western powers in Syria's civil war. Donald Trump said, "the purpose of our actions tonight is to establish a strong deterrent against the production, spread, and use of chemical weapons." UK Prime Minister Theresa May said that the Syrian regime had demonstrated a "persistent pattern of behavior" when it came to the use of chemical weapons, and that it "must be stopped".
The Syrian conflict has become a polygon of the confrontation between Russia and the US. Therefore, the development of the Syrian conflict may reflect on other issues of relations between the two countries. According to some assumptions, USís strict policy against the Syrian government may be responded by Russia with the increased pressure on pro-western countries.
In his interview with the news agency Interpressnews, an expert in the military-political issues - Amiran Salukvadze said that the events in Syria won't have any impact on Georgia and the Caucasus yet: " At this stage Russia has no reason to act in other directions. However, it is not guaranteed that Russia will not intensify its action in other regions, be it Georgia or Ukraine, but they will not do this immediately, because it will not be perceived as an adequate reaction. Any action of Russia has always been preceded by an information war to justify its future behavior. In 2008, before the August war, most of the Russian channels were spreading the wave of fake news," Salukvadze said.
An expert at Foundation for Strategic and International Studies Kakha Gogolashvili stated that in case of the most dramatic scenarios in Syria and the confrontation between the Western states and Russia, Russia may act against partner countries of western states, especially the countries with weak self-defense: "Georgia has weak defense capability. Georgia might be what Russia will act against," said Gogolashvili in his interview with Interpressnews.
The foreign policy of the state also influences the internal processes of the country and an image of its leader. For Russian, Syrian conflict is a challenge to protect its own political interests, and every strike on the Syrian government supported by the Russian Federation is an attack on Russian political interests.