Ex-Head of Georgia's National Bank Says Poor People Dislike Banks
By Gvantsa Gabekhadze
Tuesday, April 17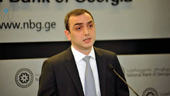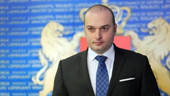 The former head of the National Bank of Georgia (NBG) Giorgi Kadagidze stated on Monday that people in poor countries like Georgia are not fond of banks, responding to the latest statement of Georgia's Finance Minister Mamuka Bakhtadze that banks in Georgia fail to act as a driving force for the state economy.
"Anti-bank sentiments in the countries that are more developed than Georgia are also an important component of the political agenda, but I also like to point out that successful companies are not proud of big profits. Successful companies are proud of high social responsibility standards and the benefits that they bring to their customers and the country," Kadagidze said.
The formed chairperson of NBG added that in terms of the social responsibility Georgian banks and financial institutions have still much to do.
"We have just few companies with high social responsibilities," Kadagidze said.
Minister of Finance Bakhtadze criticized the Georgian banking sector a week ago and stated that the government of Georgia was trying to offer an alternative financial support to start-up businesses.
Bakhtadze stated that the Georgian bank sector should drive Georgian economy, not destroy it.
"But we have different reality in the country, as commercial banks do not perform their function.
"The new reform by the government will ensure almost interest-free money resources for young entrepreneurs. This will be an alternative to high interest rate banking products," Bakhtadze stated.
A day after making the statement Bakhtadze said that Georgia's baking sector is one "one of the most important and successful sectors in Georgia."