Miners War for Their Rights
By Levan Khutsishvili
Tuesdady, April 17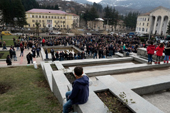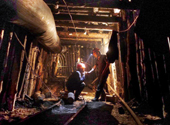 On April 15, 2018 Initiative Group of Tkibuli Miners submitted a list of requirements to the company "SakNakhshiri" (Georgian coal).
The Group requires:
1. Temporarily suspend the operation of Tkibuli mines; The Company and the state should collaborate with the joint efforts to address the existing labor conditions and safety problems in the shadow. In particular, a full assessment of labor conditions and safety conditions in mines should be studded and plan of modernization of the enterprise and work process should be created. Plan should focus on labor conditions and security issues in the enterprise and they should be in accordance with the national and international standards. In addition, the salary of the employees in the enterprise should be fully compensated for the temporary suspension of the operation of the enterprise and the Company and / or the Government should take full responsibility for it;
2. Conduct a collective agreement between the employer and the employee, which will provide adequate employment and social guarantees for the employees;
3. Persons who are responsible for the unbearable situation existing in the enterprise should be immediately dismissed;
As the Independent Initiative Group of Tkibuli Miners state, working in the existing conditions is inevitable. In the beginning of every shift they farewell to their families as they don't know whether they will go back or not. They will not continue working in mines if management does not satisfy their requirements.
"Tkibuli has been in the hardest social and economic conditions for many years, and most of the residents are on the brink of extreme poverty. Only opportunity for employment in the town is mines of the Ltd "SakNakhshiri". In our mines labor conditions and labor safety is extremely difficult, which has repeatedly become a reason for the mutilation and destruction of lives of our friends. In Tkibuli, over the last 11 months, 11 miners died during performing their duties, and it is the result of our hard labor conditions and safety norms in mines. An extremely difficult situation in Tkibuli needs appropriate response from the government and the company. We are starting to fight for the right of life and work. Join us! "- the group says in a statement.
After the tragic incident in Mindely Mine (5th April, 2018), when 6 miners died and 3 was injured, students group and miners organized solidarity demonstrations in Tbilisi, Kutaisi and Tkibuli. Some of the activist in Tbilisi were caught by the police. Actual changes in mines are still not planned. Miners are looking for different ways to defend their rights. Creating a self-sufficient, independent initiative group, separated from labors union and political parties can be the solution.